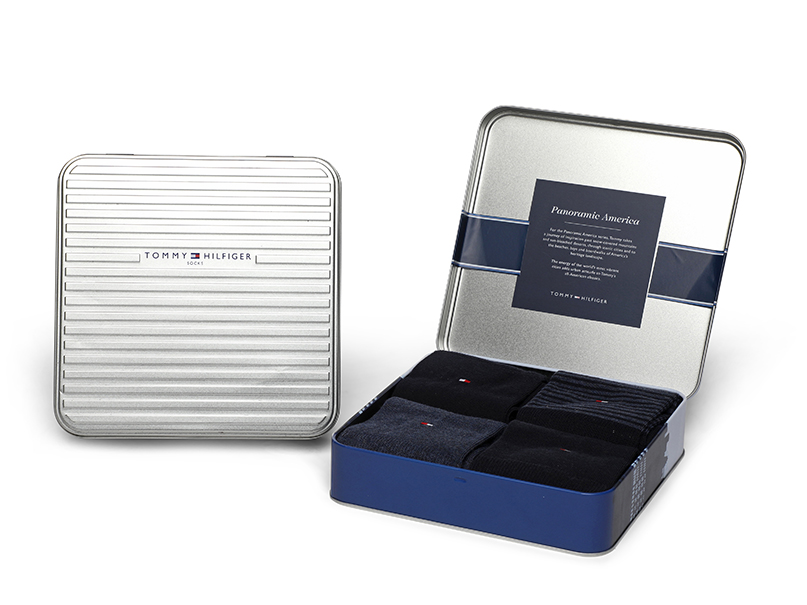 Luxury tin packaging for clothing

Tommy Hilfiger was in the market for a luxury gift box for socks. We produced an international gift packaging that could be used as a secondary storage tin for accessories.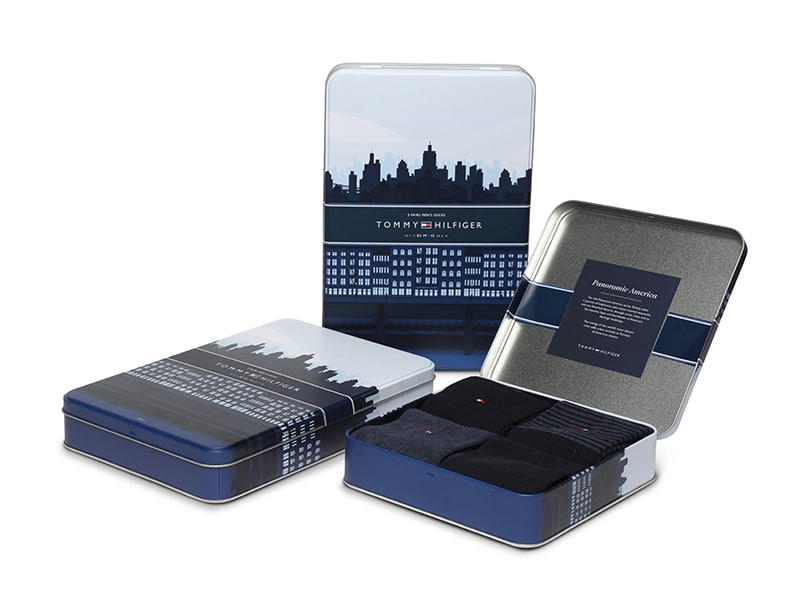 Tommy Requirements
Tommy Hilfiger was looking for a metal gift box for selling 4 and 5 pairs of men's socks in (department) stores around the world. The tin package had to stand out (promotion), be sustainable (have residual value) and be experienced as a luxury gift worldwide. There was also the requirement that the quality of the tins and printing should be of high quality, since they would be presented side by side. Finally, the tin should be suitable for undamaged distribution and the (changing) content had to be easily accessible for scanning at the cash register.
Design of the tin can
To achieve the international "look and feel" from the briefing, we opted for a skyline in white, blue and silver. The primary purpose of the tin was to attract attention and sell the socks. Secondarily it could serve to store accessories such as watches, bracelets, cuff links or belts. This way the brand remained under the attention and the tin got a second life.
To also meet the latter requirement, we designed a cardboard protective case with a hole for scanning the barcode of the product.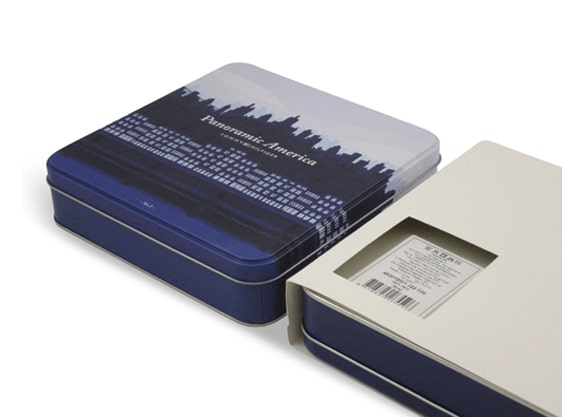 Production of tin
We gave the tin package extra allure and cachet by not giving it a glossy, but a matt lacquer finish. A fixed hinged lid has been used, making it easier to open and close. Inside, a full-color printed cardboard box has been added to support and present the socks neatly. The lid of the can could be sealed with a self-adhesive banderole.
This gift box is sold worldwide by Tommy Hilfiger. Due to the success of the sales, this tin has been repeated several times. We are very satisfied with the end result and proud of the extra exposure that we were able to offer Tommy Hilfiger.