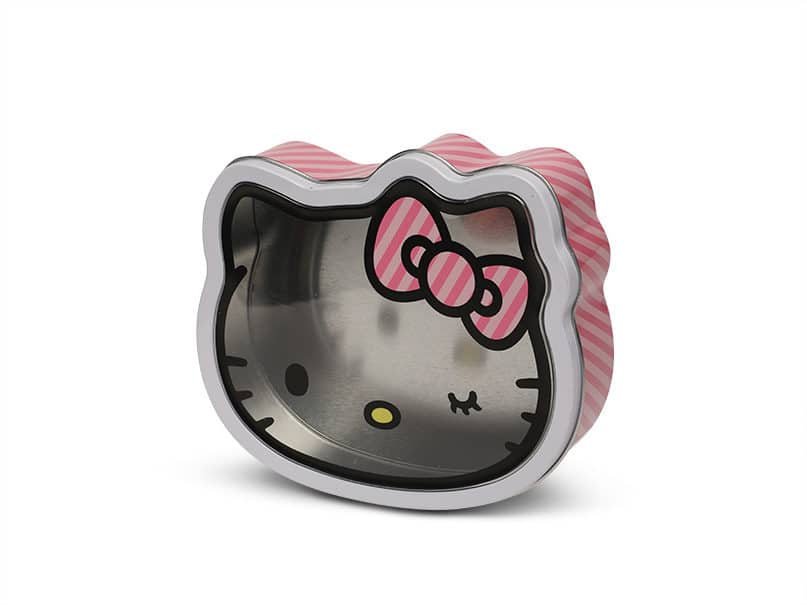 Add a handy or special function to your tin can by having it edited.
By editing you can add a function to your can. For example, by applying a hinge, handle, pouring cap, handle or lock. With embossing, a pvc window, a seal or a banderole, you can make your tinbox stand out even more.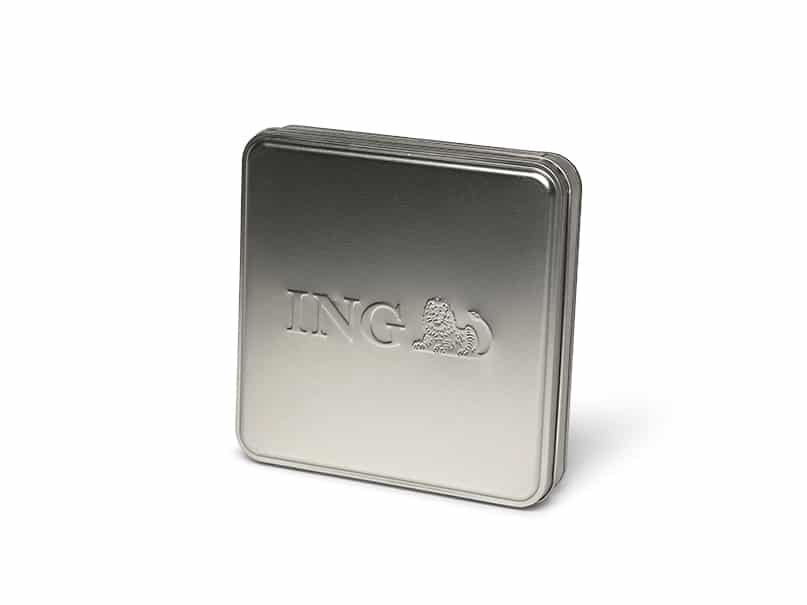 Tinplate with embossing
The best-known technique to give a chic look to your look with a simple operation is embossing (also known as embossing or embossing). By means of a custom-made stamp, a relief is stamped into the can material. Often that is a logo, but it can also be an image or piece of text. In certain cases, embossing on the hull, lid or bottom is also possible in combination with printed matter. We can work in different depths and are able to apply both inward and upward embossing.
Tin with hinges
Almost every can is fitted with a hinged lid, but with square or rectangular tins it works best. By hinging the lid on the can, you will not lose it. That adds ease of use. Some of our customers, however, opt for a hinged lid because this makes the look of the tin more attractive.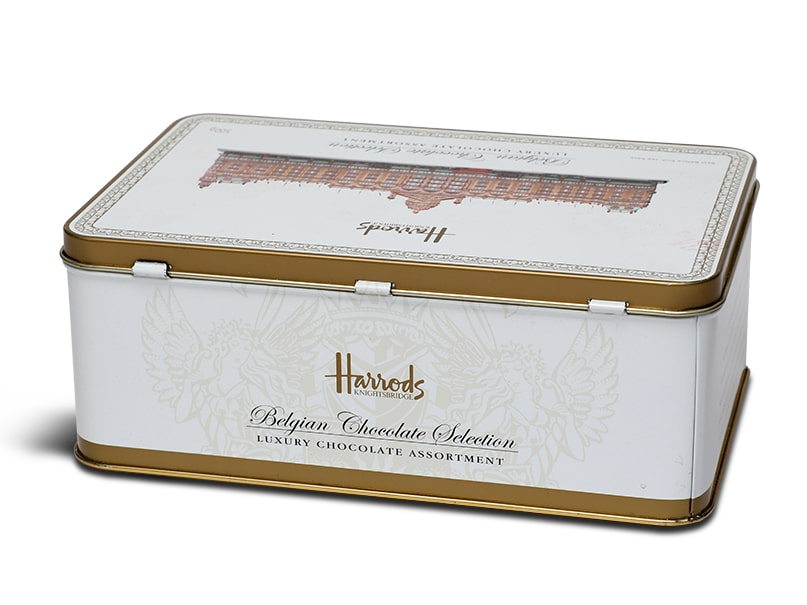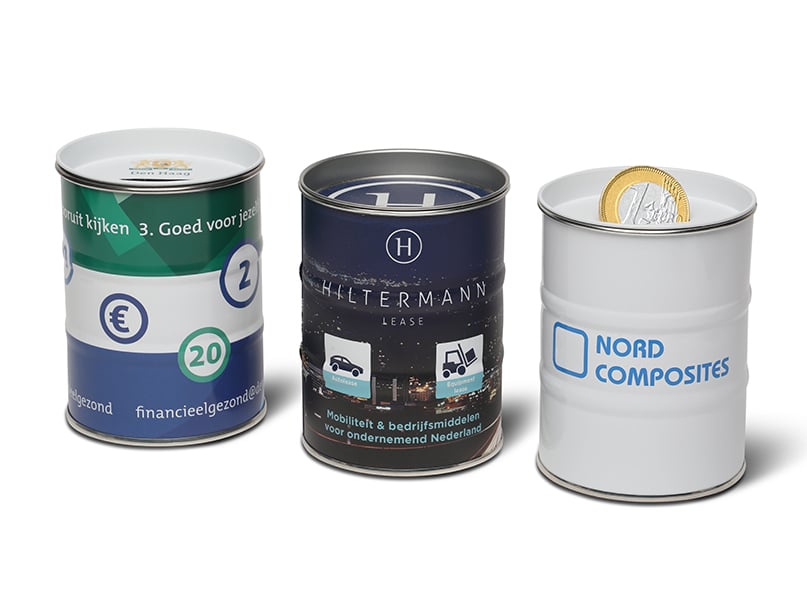 Can with savings slot
Since there is less and less cash in circulation, we see that the can with saving slot is also used for other purposes. In addition to a notch for coins, you can also create a narrow slot for inserting vouchers, envelopes, stamps or (plastic) coins.
Tin with metal handle
Some cans are used during work. It can then be useful to be able to wear them. By attaching a metal handle you can hang a can on a strap or belt. You can also use the handle to open the lid more easily. A lid has in some cases only a decorative function. You give it a tough, industrial look with it. Certainly in combination with a metal screw cap.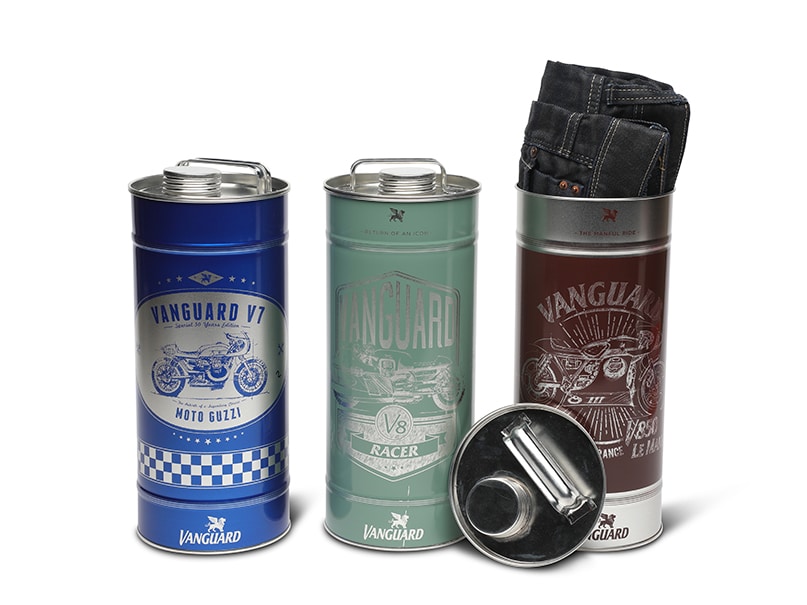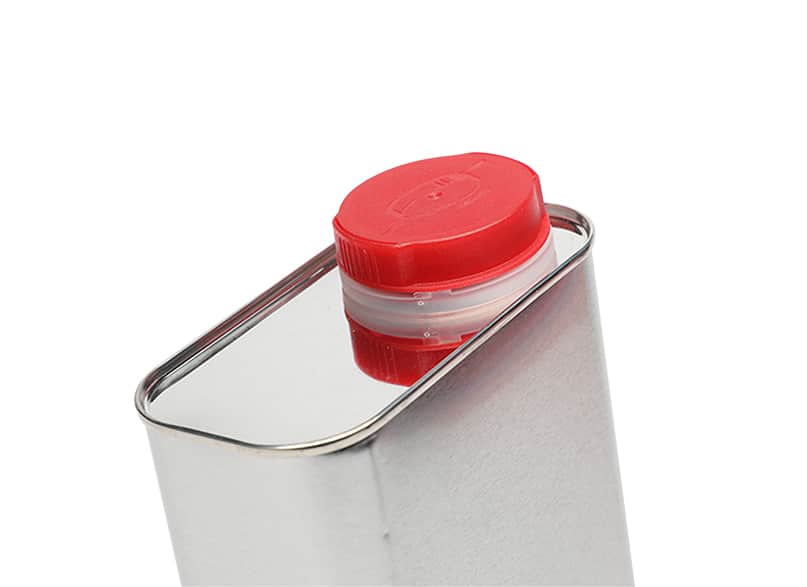 Tin with pouring cap
Liquids that are used in small amounts and that have a long shelf life are usually canned. To access the contents, you can choose to place a lid or cap. For a thin or perishable composition, a pouring cap, screw cap or pressure cap is obvious. By applying a cap, you can easily pour without spilling. We can realize metal screw caps, but also ordinary plastic pressure caps.
Tin with viewing window (PVC)
If the content of your product is attractive to look at, you prefer to show it immediately. There is a good chance that this increases the number of purchases or their consumption. From a marketing point of view, it may therefore be desirable to provide a viewing window in the body or lid of a can. You can then see the product (before purchase) or determine the remaining content (after purchase) without opening the can. A viewing window can be executed in all conceivable forms, from a round window to completely in the desired shape.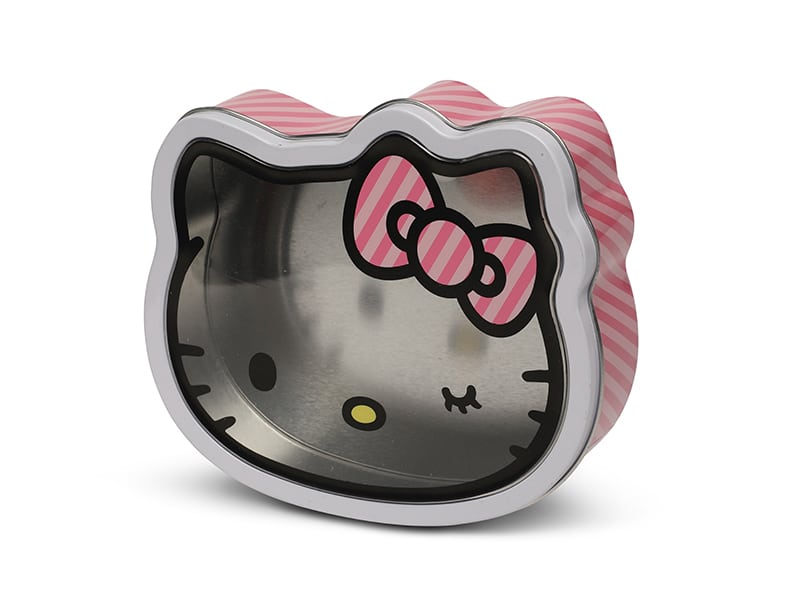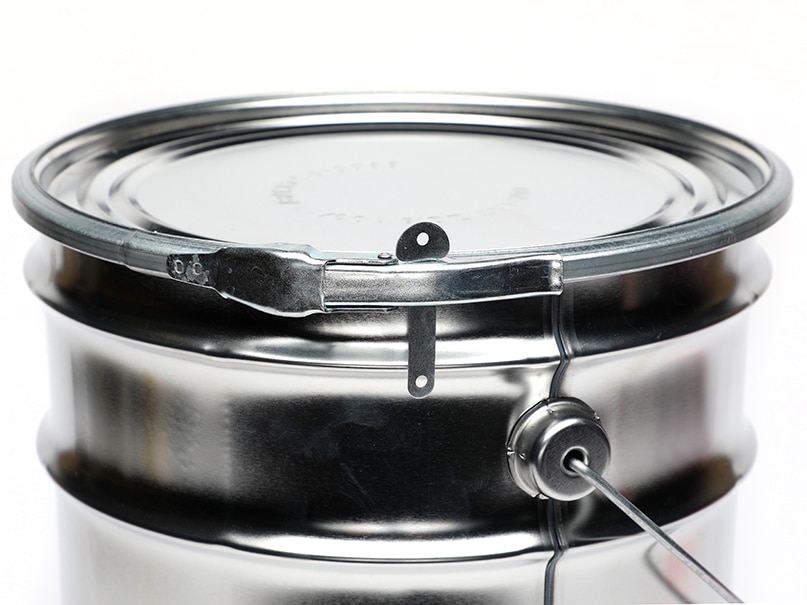 Can with clamping ring
A tension ring around a can looks industrial. This is not surprising, because this closure is the most commonly used in that sector. A tension ring tightly secures the containment lid to the can with the help of a ring. The tension ring makes it possible to hermetically seal the liquid or hazardous substance in a can. In this way the product remains stable and does not pose any danger to its environment.
Can with clip closure
In contrast to the clamping ring, the clamping bracket closure is used more in the food sector. A lid closes even better with a clamping bracket. This may be desirable with products that have to have a long shelf life. Some customers just want to stand out and love the slightly more robust appearance. The lid that closes the clamp can be made of plastic (available in various colors) or made of tin (blank or printed). The inside of the lid usually contains a rubber rim for optimum closure.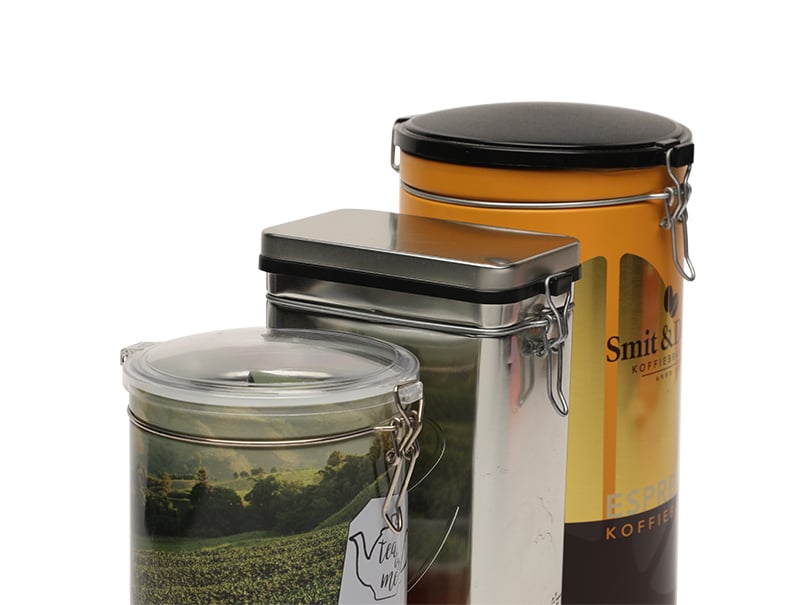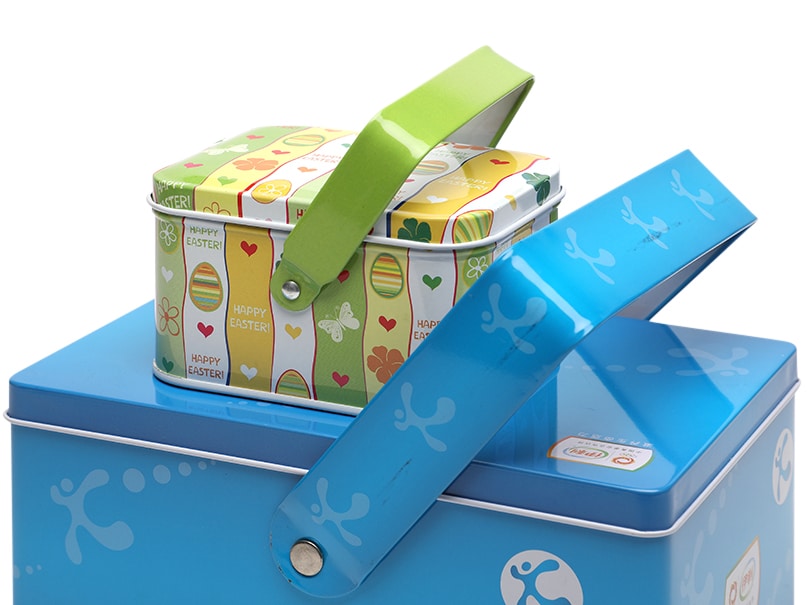 Can with carrying handle
Where a metal handle on a can often facilitates opening or carrying, a carrying handle is usually added as a decorative gimmick. By adding a carrying handle, carrying or suspending the can naturally becomes easier. We can make blank or colored carrying handles from metal or plastic.
Can with lock (and key)
You keep your biggest secrets in a can of course! To visually close a can, we can provide it with a lock with key. The lock connects the lid with the can and therefore the contents can only be reached by the holder or finder of the key. You won't stop real thieves, but little crooks will have a great time! We have produced cans with locks for banks (money boxes) and travel agencies (suitcases).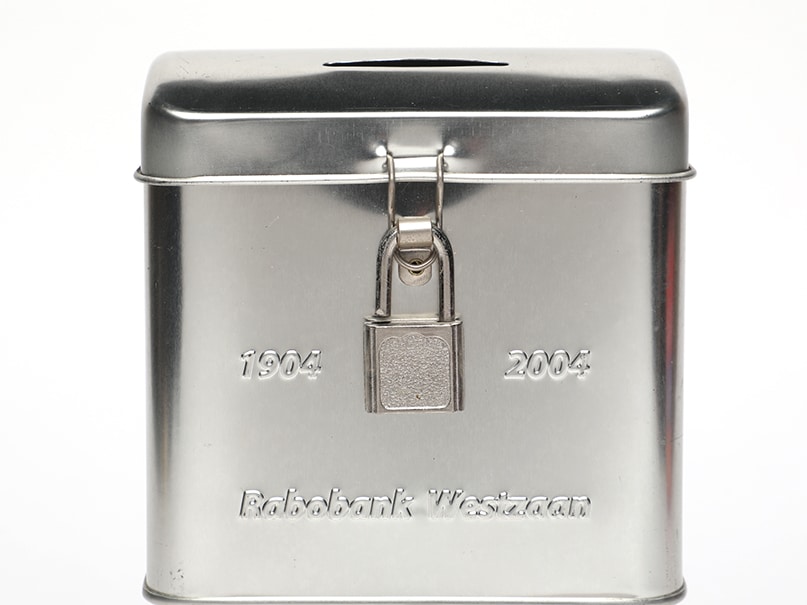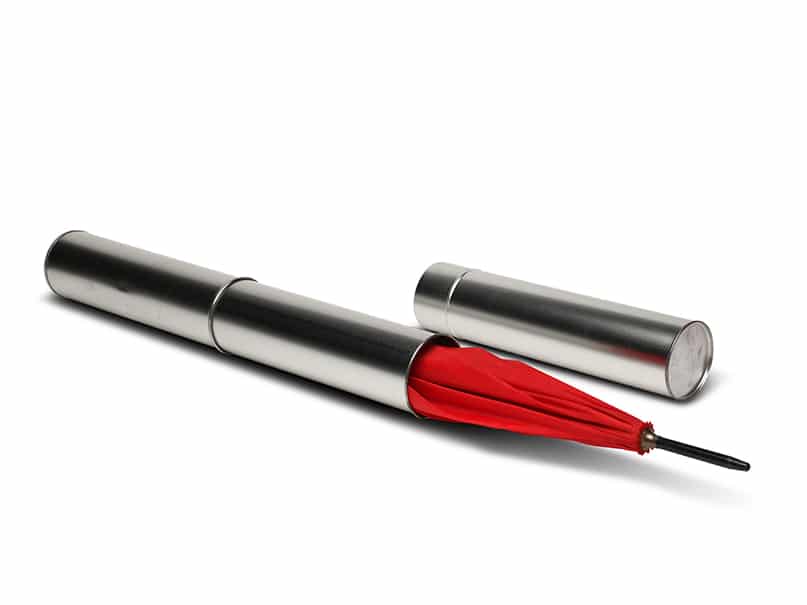 Look like a tube
Elongated products are generally susceptible to bending or breaking. To be able to pack long products, tin is an excellent option. You can perform a can as a case with a lid. Another option is to connect two cans by sliding the two tubular parts over each other. We used tube cans for packaging a map, umbrella, magnum bottle or a (non-folding) product as a cable.
Interior of tin
We understand that the interior of your car or home gets more attention than that of your product. In some cases, however, the interior of a tin deserves full attention. For example, if they have to remain separate (compartmentalization), have to be recorded for safety (supported) or have to be extra beautifully presented after opening (display). We can give your tin an interior made of foam, cardboard or plastic. Plastic is formed by thermoforming and has a smooth or velor end result.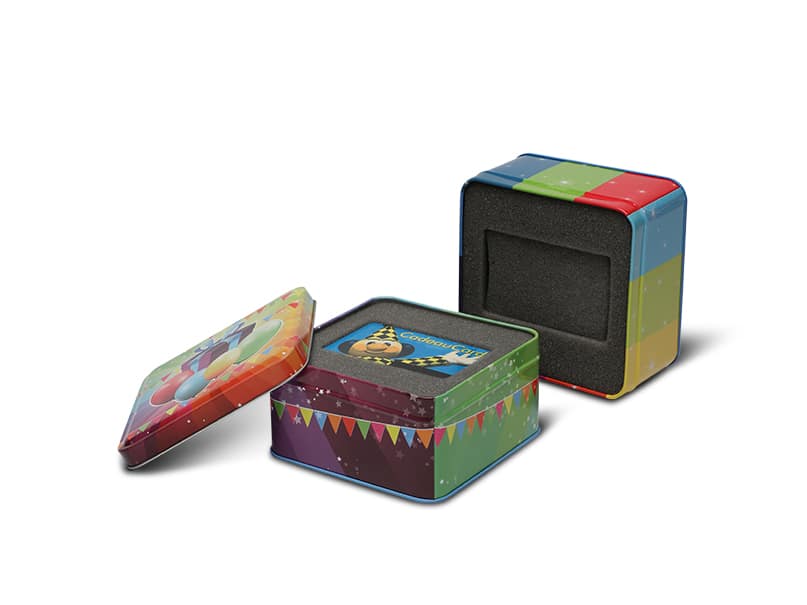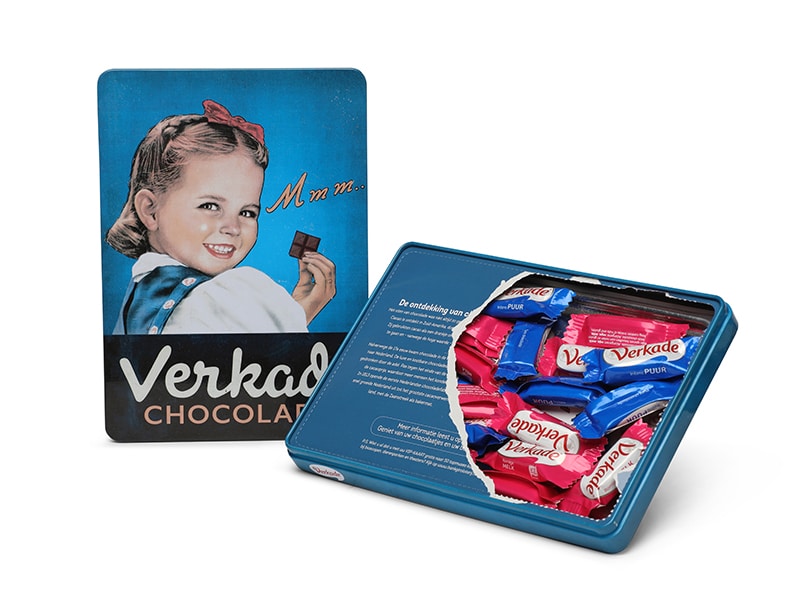 Can with seal or banderol
May the content of your product be directly accessible or is it nice to keep it out of sight for a while? We can provide your tin package with a printed paper seal with tear perforation. The buyer or recipient of your product can reach the content by tearing open the seal.
You can also think of a printed paper or cardboard banderole that is wrapped around the can. You can only access the content by breaking the banderole. Unpacking gets an extra dimension and the branding is easy to adjust with an extra taste or new promotion. The tin-can can remain the same.
Display for can
Are you looking for a way to present a number of cans in a stylish way? We speak to many customers who want to present a small stock at their sales channels or promotional activities. A display box for tin can offer a solution. In a display you can place a number of cans on the counter or shop window. We are happy to have them made for you, so that your packaging is immediately ready for use.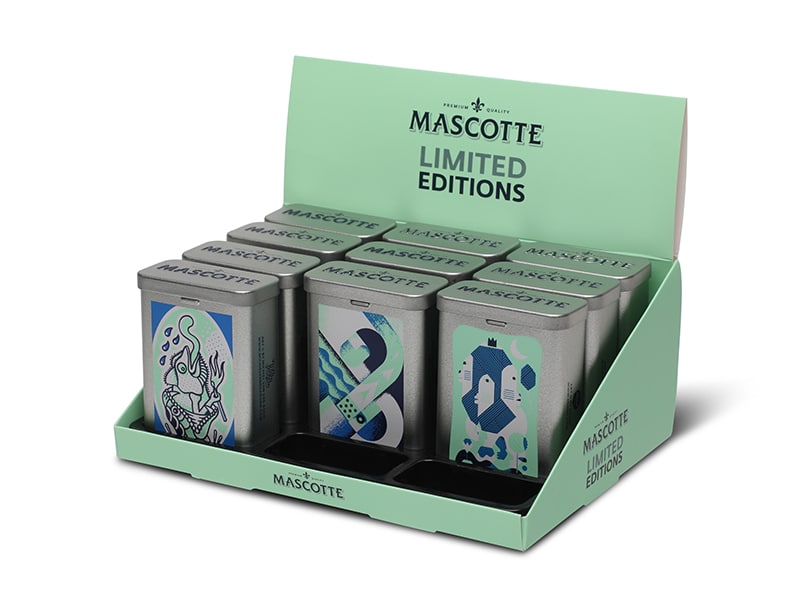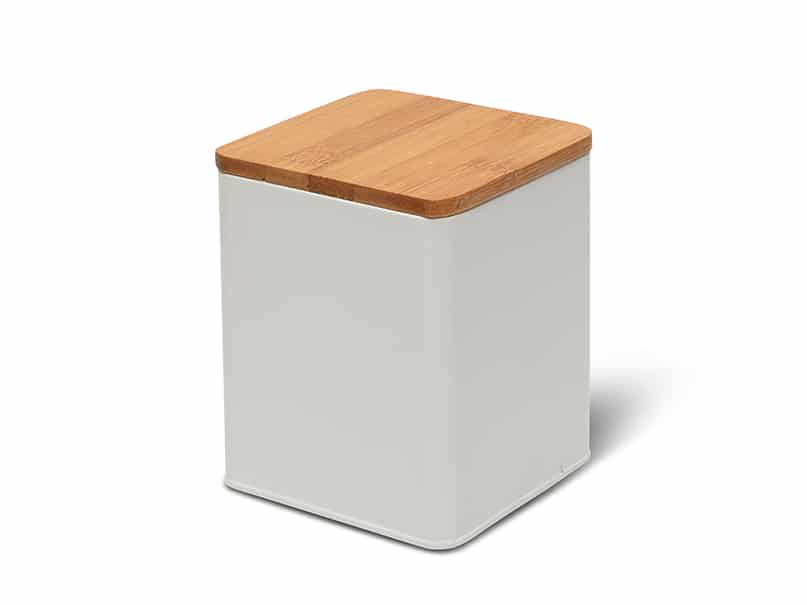 Hybrid look
Did you know that you can also combine cans with other materials? Adding plastic, wood, leather or cork creates a hybrid tin shape. The use of a different material is playful and can add an extra function. A handle, lid or bottom made of different material can completely change the appearance.
Sheet with seam or weld seam
The seam is the connecting part of a can. Most cans have a seam . With offset and digital printing, the use of a seamed seam allows the printing to continue all the way through. That is different with screen printing. If you choose a can that must be 100% airtight, light-tight and leak-proof, it will get a weld seam . A weld seam guarantees that a liquid or product remains stable and does not leak. However, the weld seam always remains unprinted.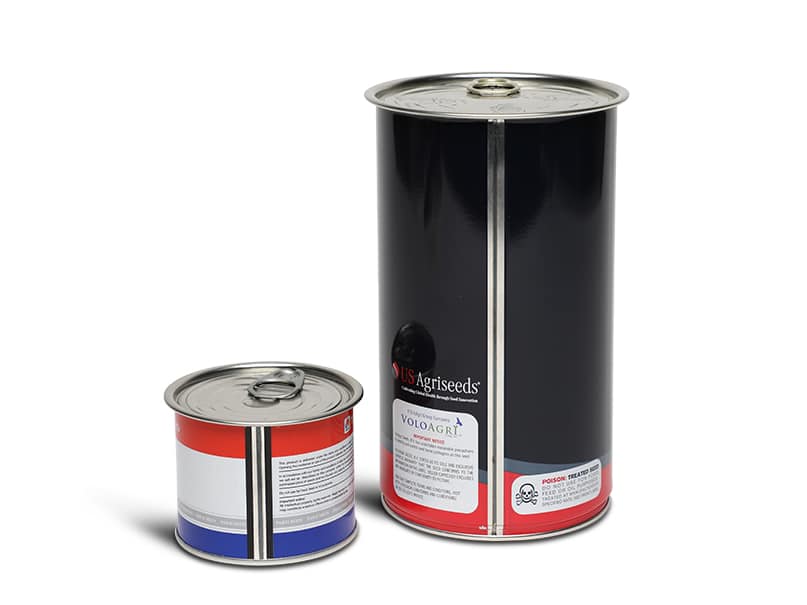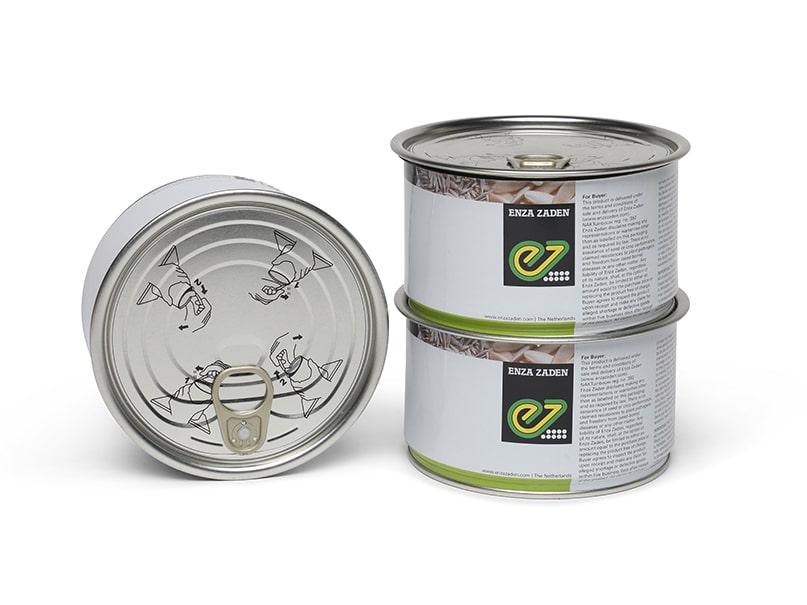 Can with Easy Open End
English names are often adopted in the Netherlands. There is an international can closure with which a tin-can can be opened easily (but once). We call this Easy Open End (abbreviated to EOE or ETO). By attaching a pull closure (tab) to the lid, it can easily be pulled open at the top. This tin lid has an opening instruction as fixed text, is always provided with a compound (liner) and is finished with a food varnish.
Tin with Peel-Off End
A can with a Peel Off End (abbreviated PEO) works the same as described above with Easy Open End. However, it is manufactured from aluminum. The lid is also provided with a compound (liner) and finished with a food varnish.


Can with catch closure
We can also provide cans with a catch (Penny lever member). In contrast to Easy Open End and Peel Off End, this lid is reclosable. Moreover, there is a manufactured foil in the ring. The lid is provided with a compound (liner) and finished with a food varnish.
Tin with plastic lid
A can that is equipped with a lid with Easy Open End (EOE) or Peel-Off End (POE), must in some cases be closed additionally. We can provide these cans with a plastic valve. The basic colors in the usual diameters are transparent and white. We supply special colors on request.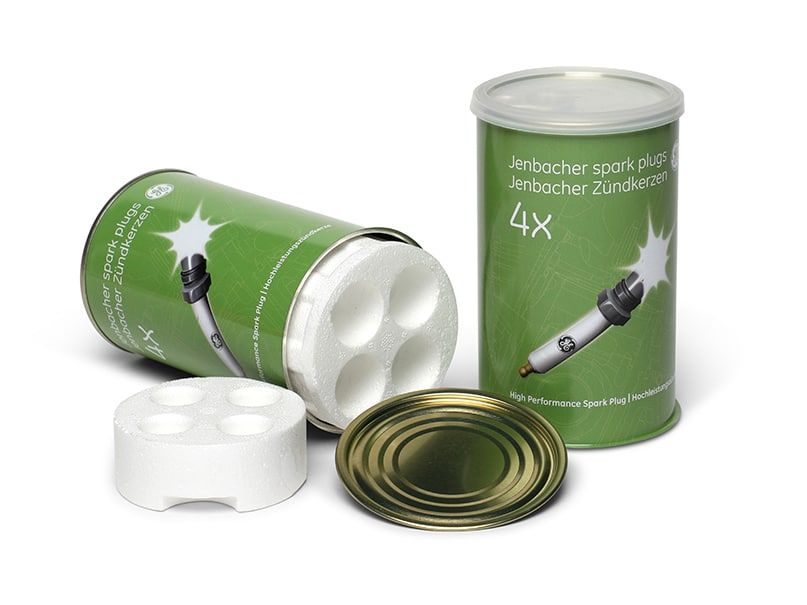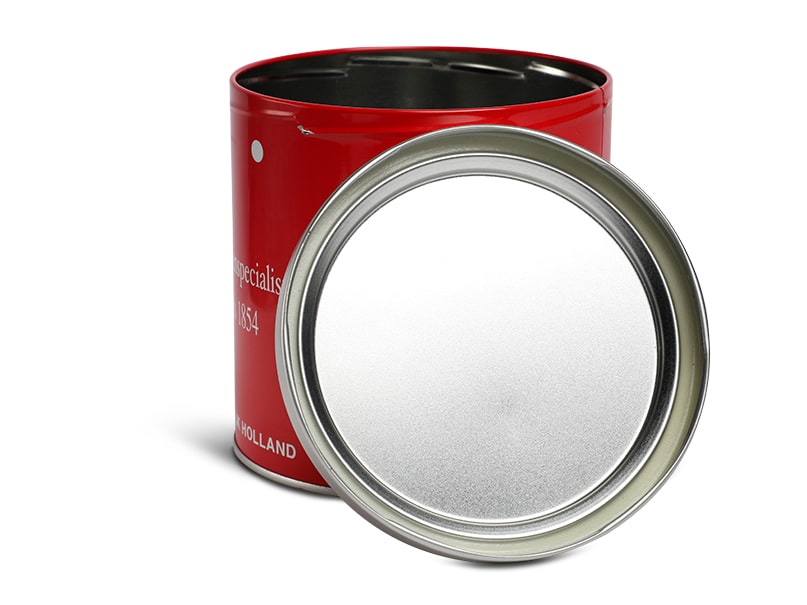 Tin with compound (liner)
Liquid products must not leak and perishable goods must remain fresh for as long as possible. To prevent the seams in the bottom of a can of liquid from leaking or letting in oxygen, we can provide it with a rubber layer. The accompanying image shows that the lid has a so-called compound (liner).
Can with checked bottom
Taking the underside of the can (neck) reduces the diameter on the underside with respect to the upper diameter. This makes the cans stackable so that the ease of use when placed on the storage shelf improves. An additional advantage is a fixation during transport. Checked tins are put together in the box so that they do not slide.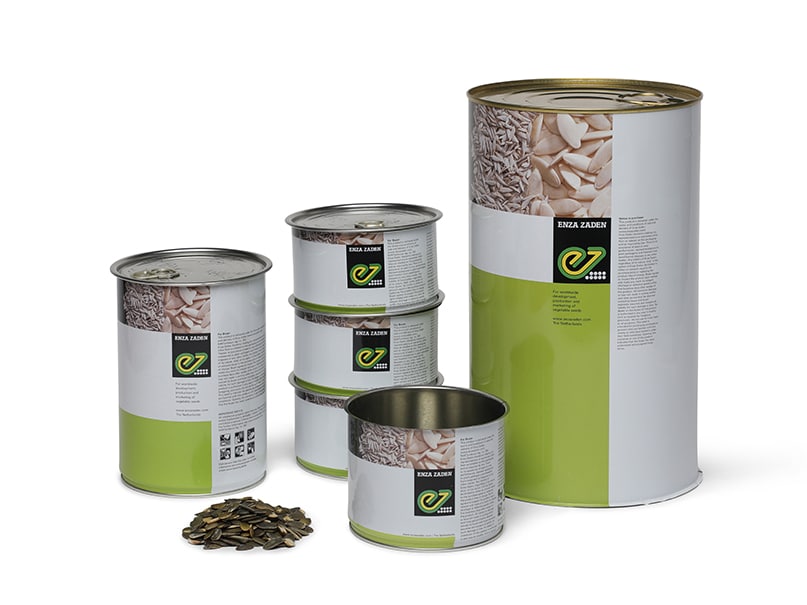 Looking for a personalized tin can?
Are you interested in a tin that fits you in terms of shape, printing or processing? We would like to get in touch to inform you and hopefully inspire you.