For your promotional gift we make a printed tin with the desired closure in every shape you can imagine.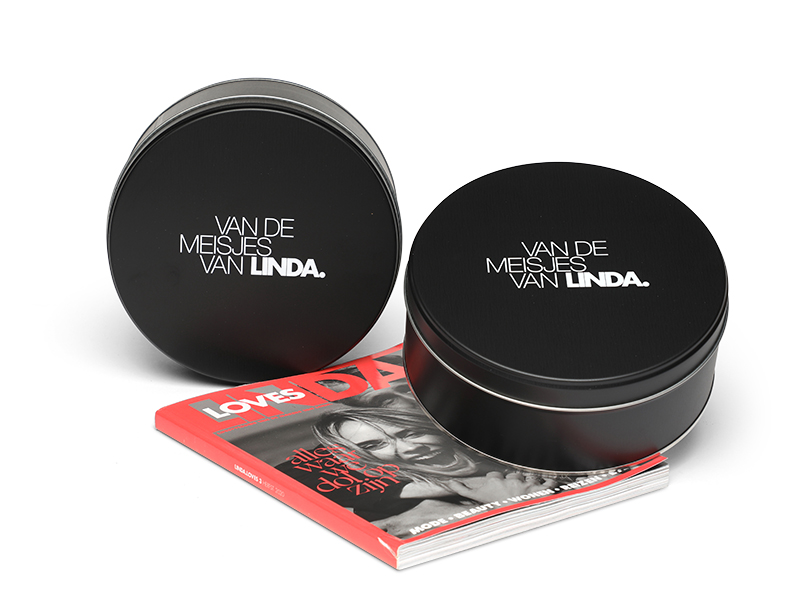 Reward your dear readers or subscribers with something delicious in a beautiful matte black (storage) tin.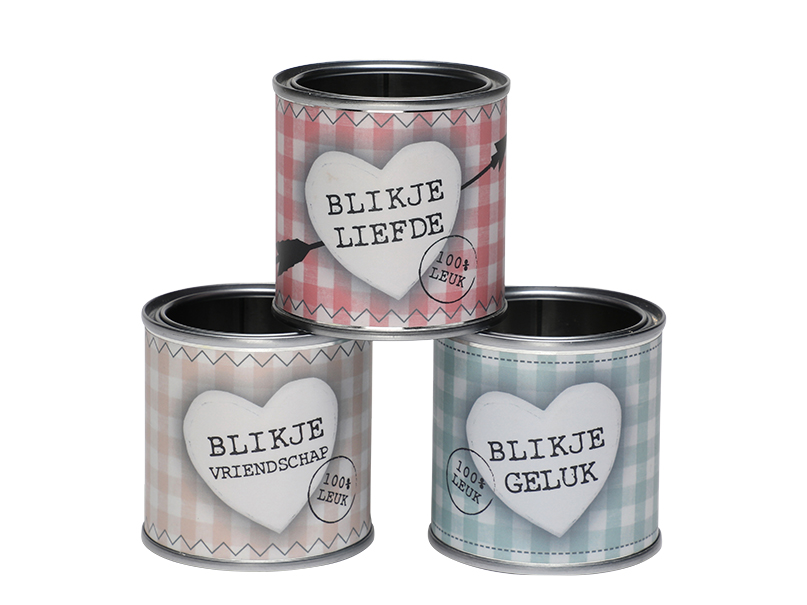 A paint can with your own label all around.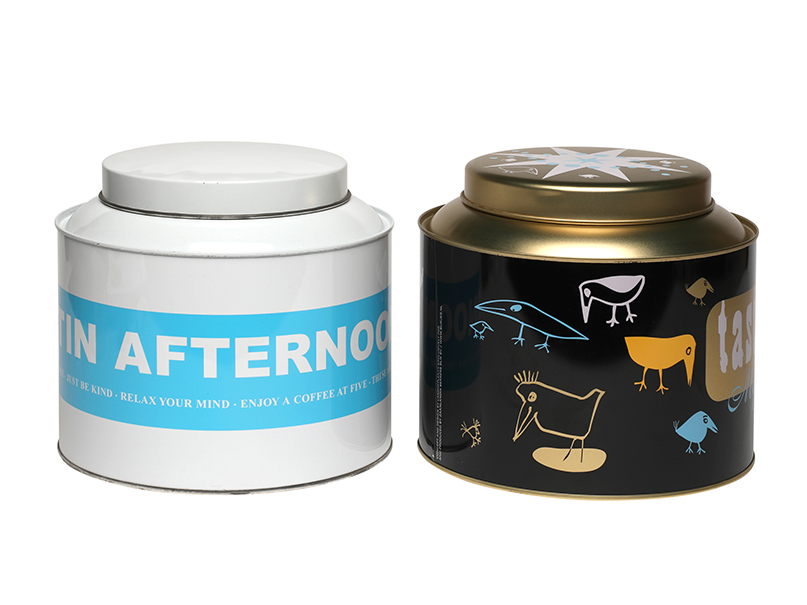 Tin with a conical hood, an eye-catcher for, for example, a bath or tea package!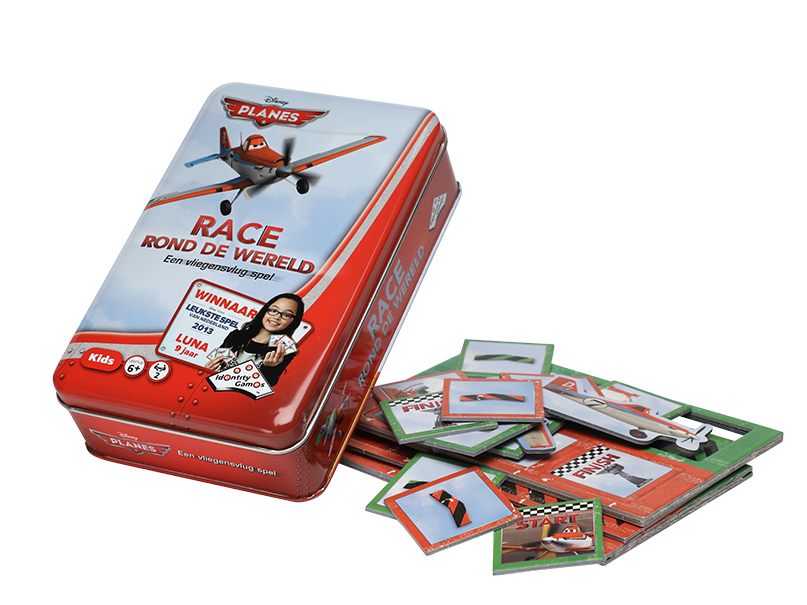 Memory game in a rectangular tin with a convex lid.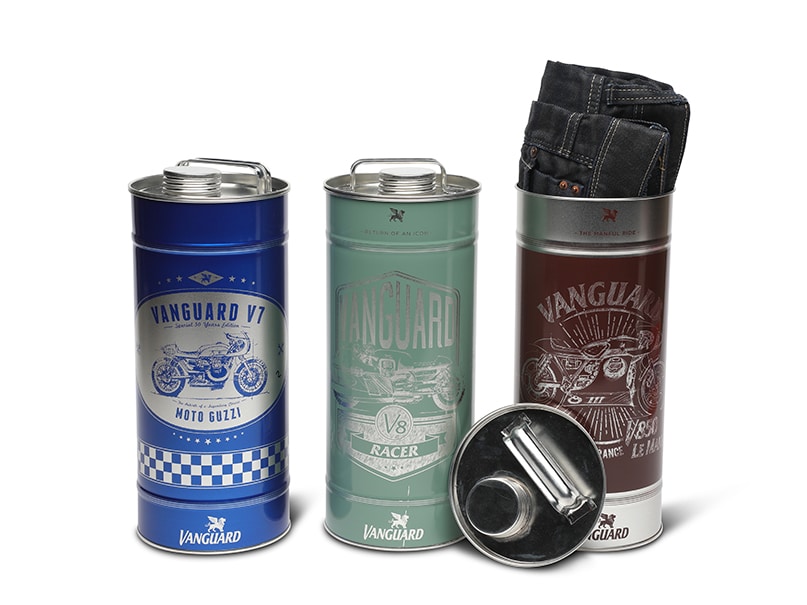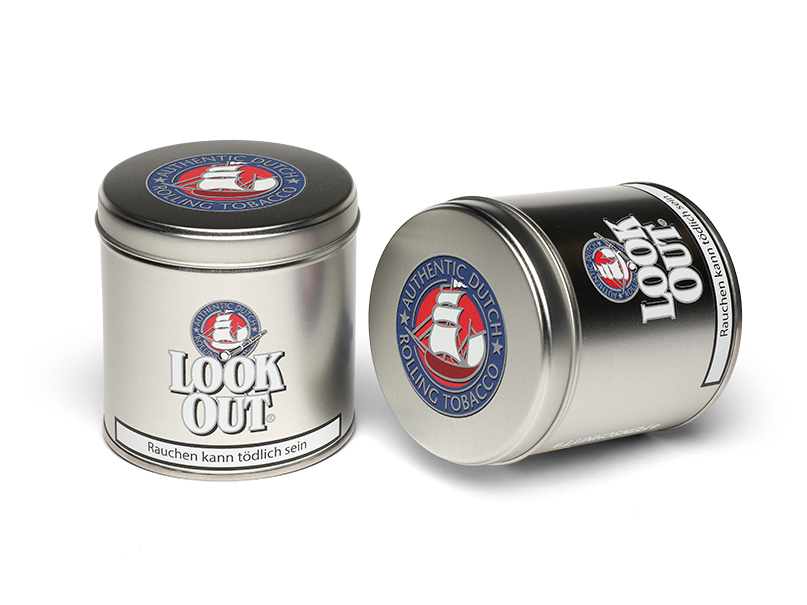 Not printed allover gives this beautiful luxurious, silver look.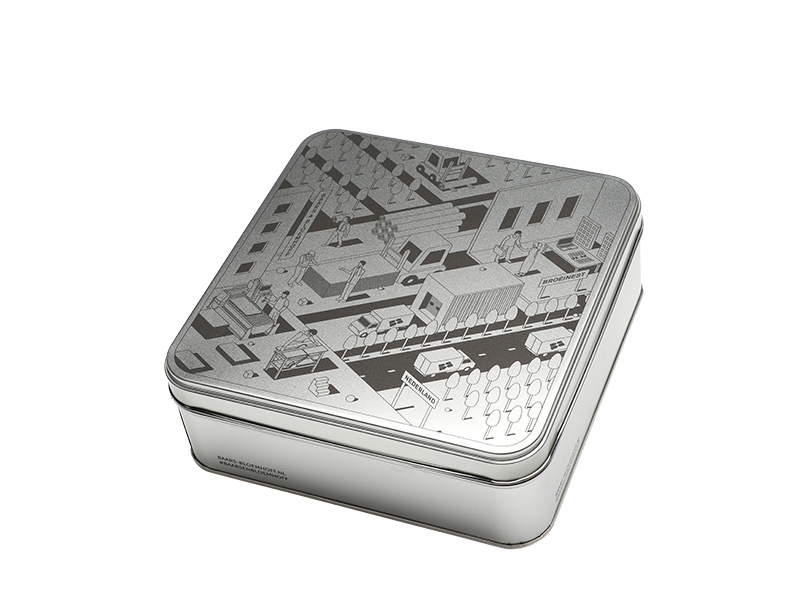 A square (cookie) tin that can hold a lot.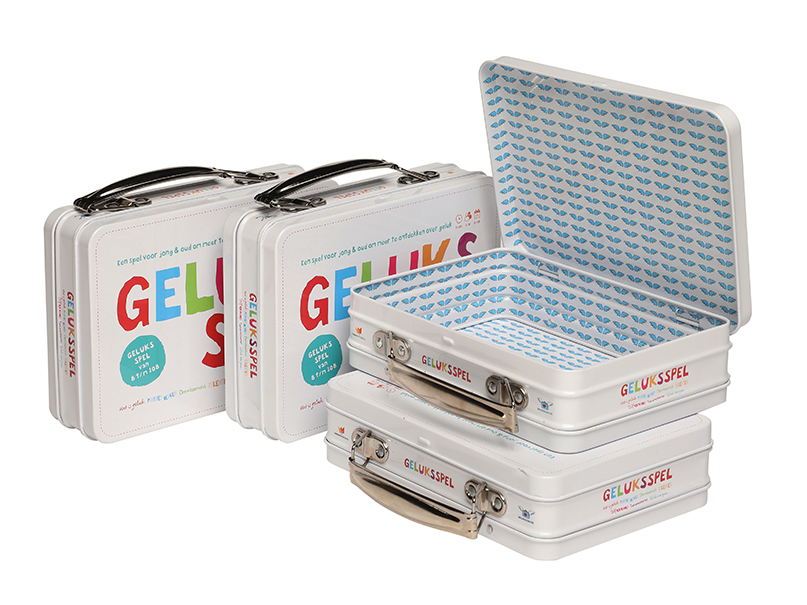 ,A portable can. Creativity and user-friendliness brought together in a beautiful tin product.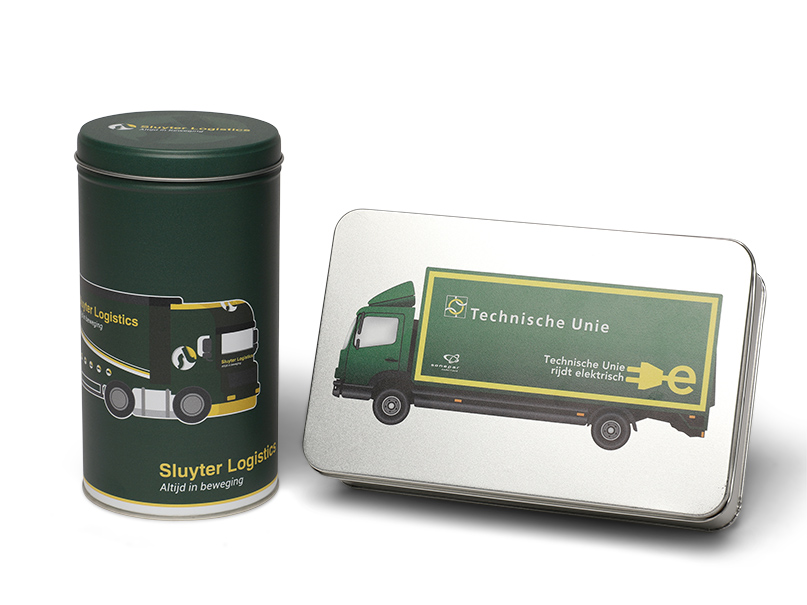 The contents of a can can be transported to your relations protected, fresh and personalized.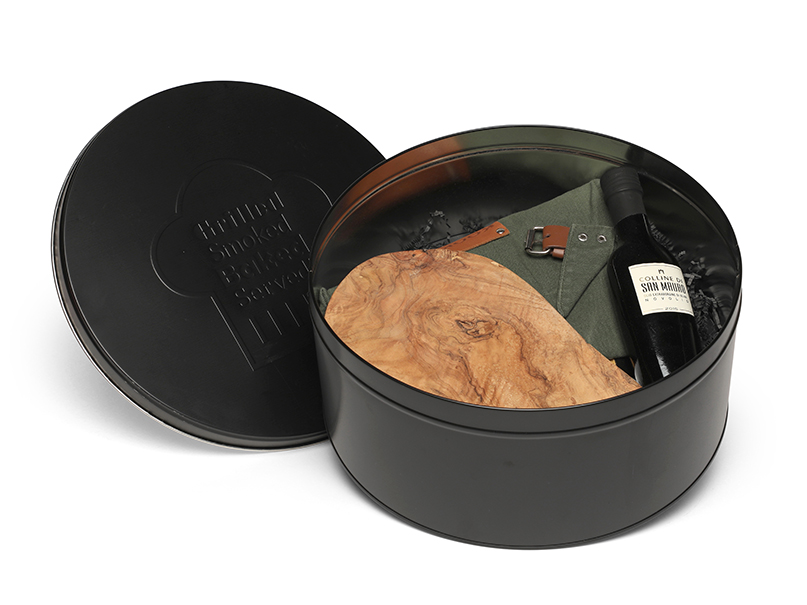 Matte black round tin for food or non-food themed pack.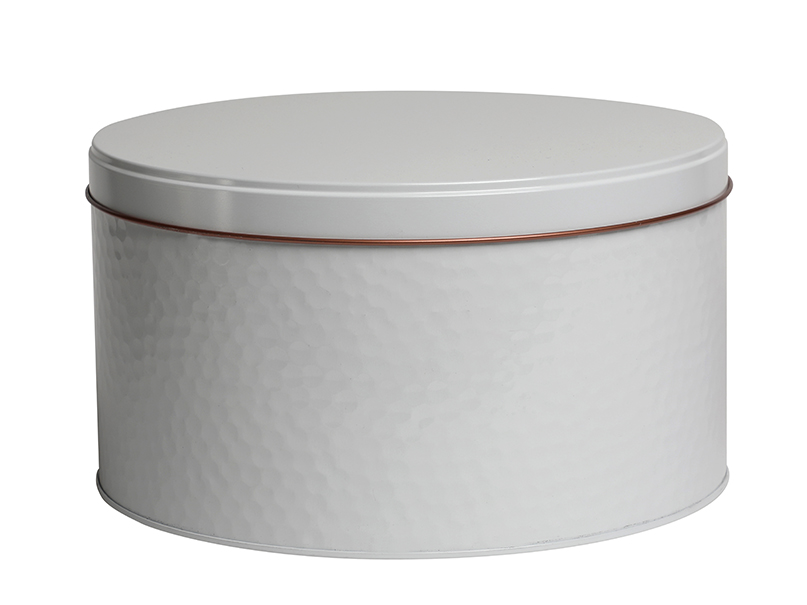 Simplicity graces. White package tin with hammer blow technique. Available in many formats.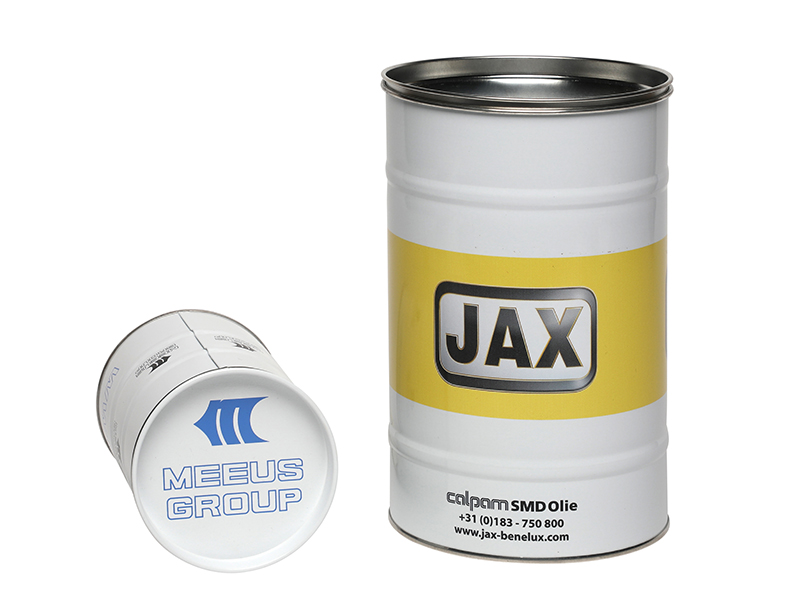 Promotional item with a cool, industrial look. Available printed and unprinted, with or without lid.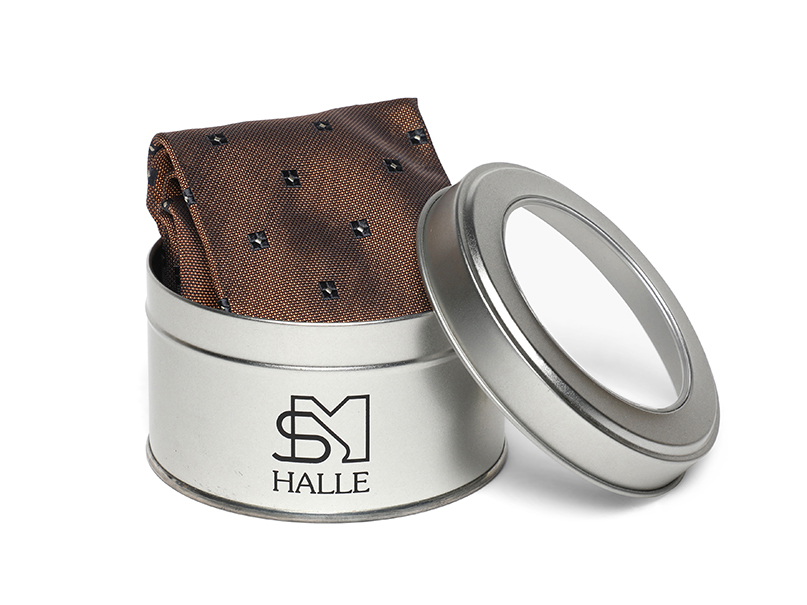 Nice tin with window for tie or coiled belt.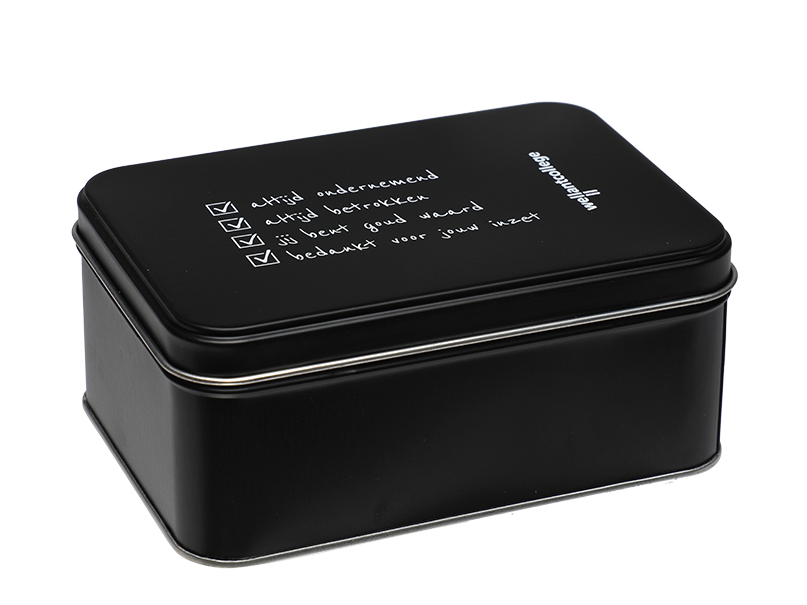 Nice promotional gift of matte black tin. Personalized here with screen printing in white.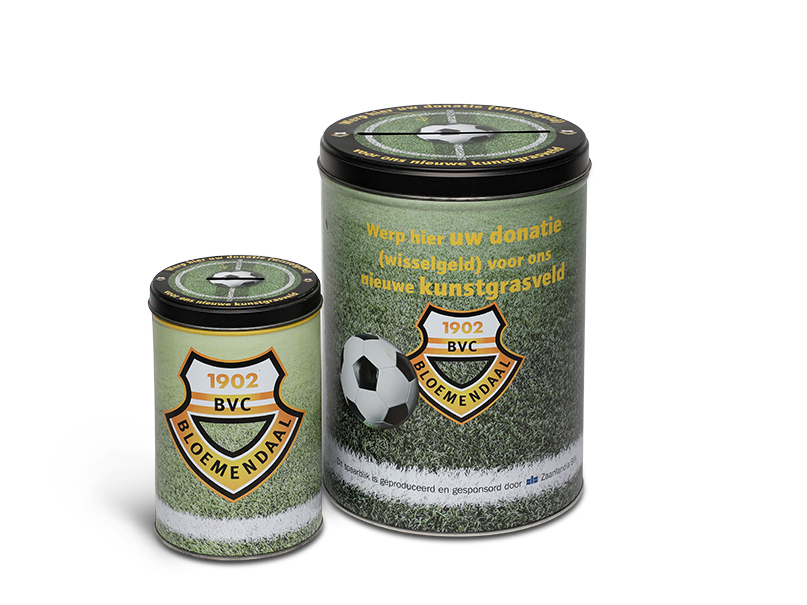 Collecting money for a good cause or your child's sports club? A can with a savings slot!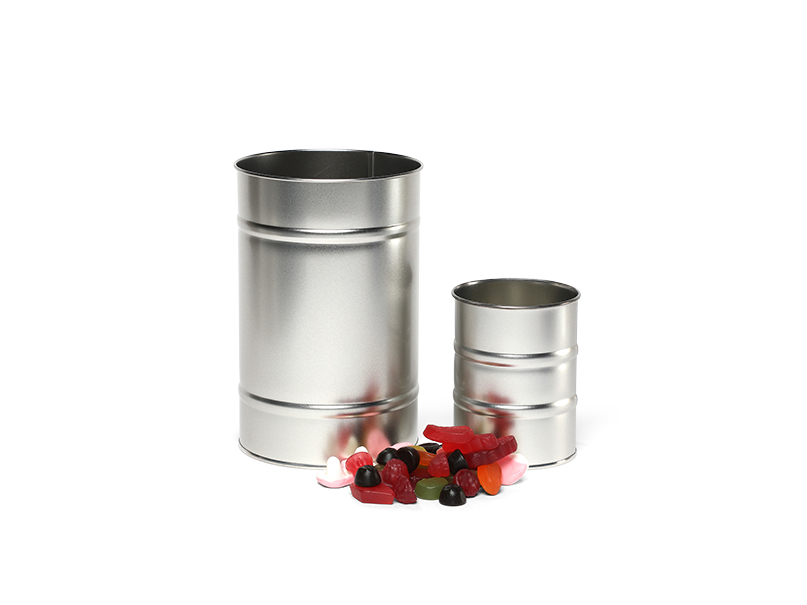 A cool tin for candy or pens. With or without lid.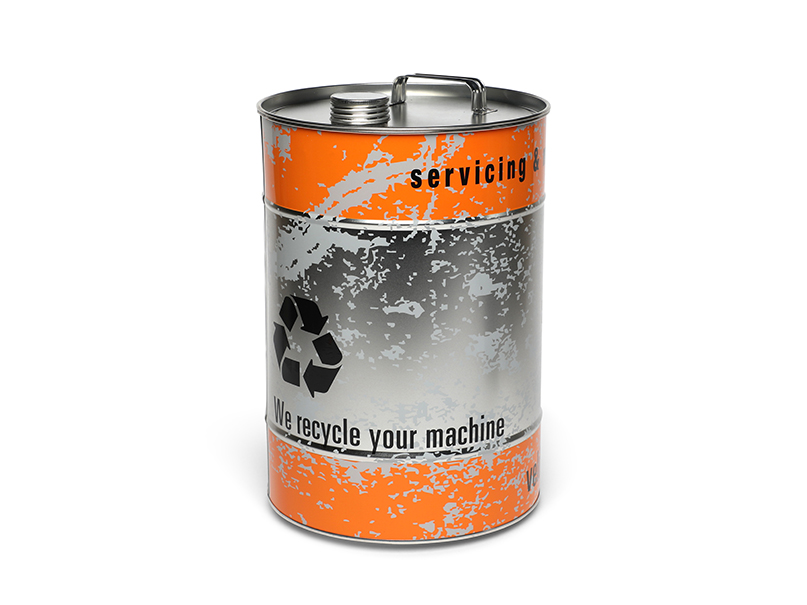 A tin packaging with a cool, industrial look & feel. Click for more examples.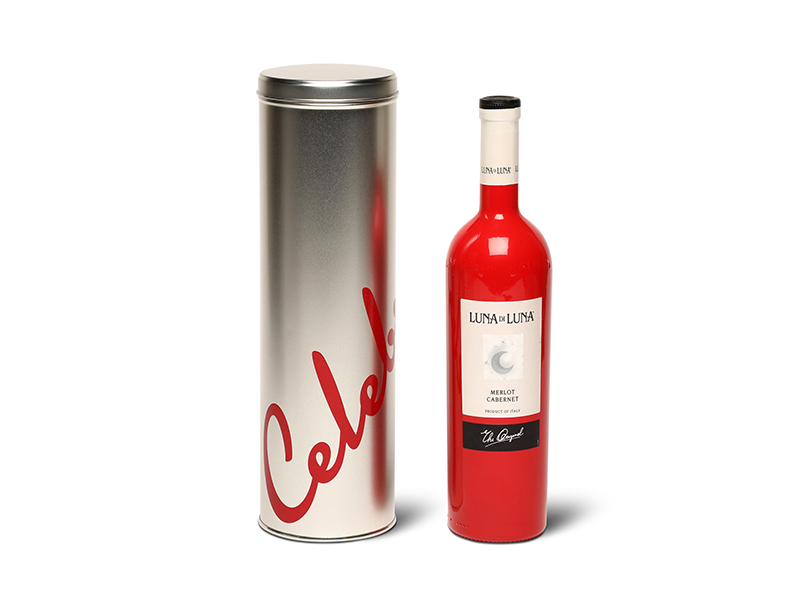 Think of a festive tin bottle packaging.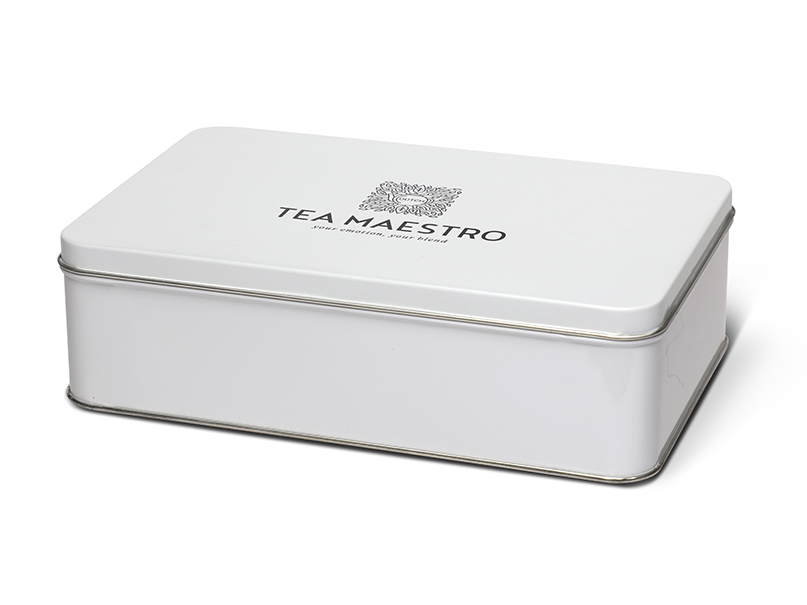 Standard format, also in silver, with 1 color screen printing. Quick delivery.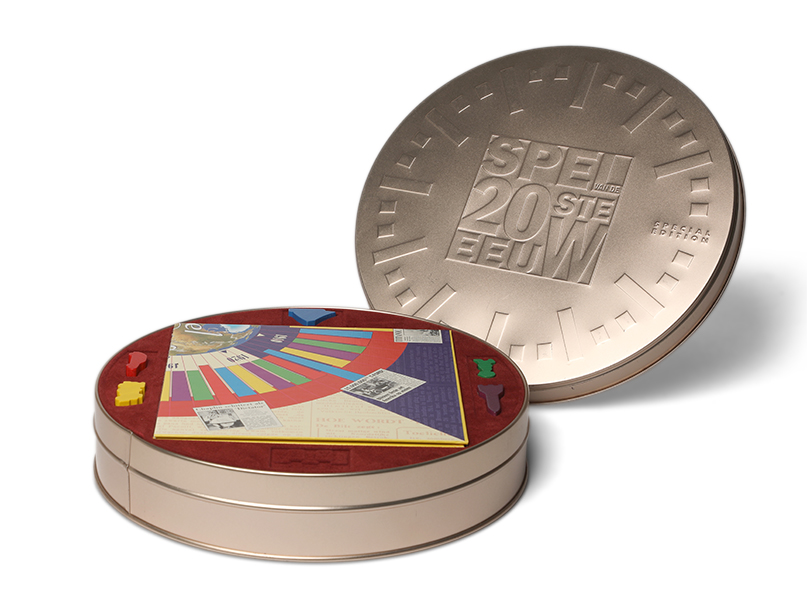 Champagne-colored tin, lid with beautiful präge.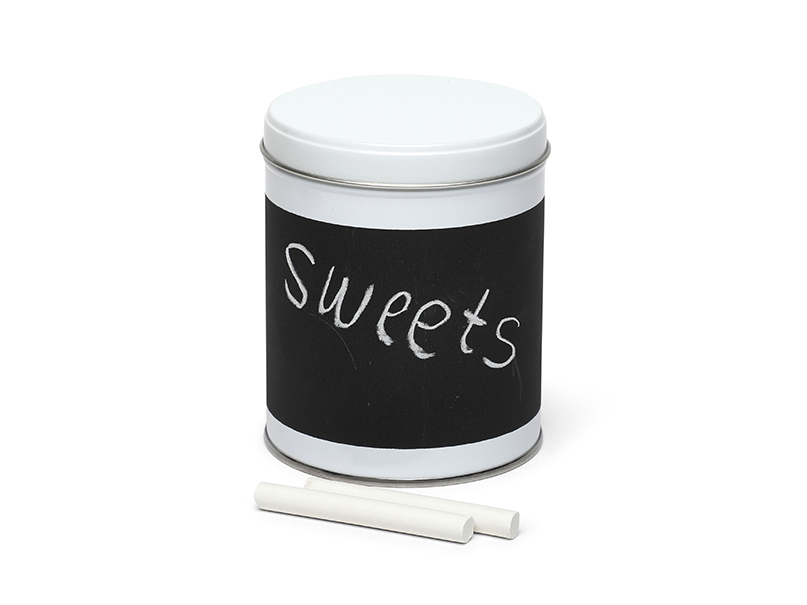 Many options with writable chalk area in your own PMS color.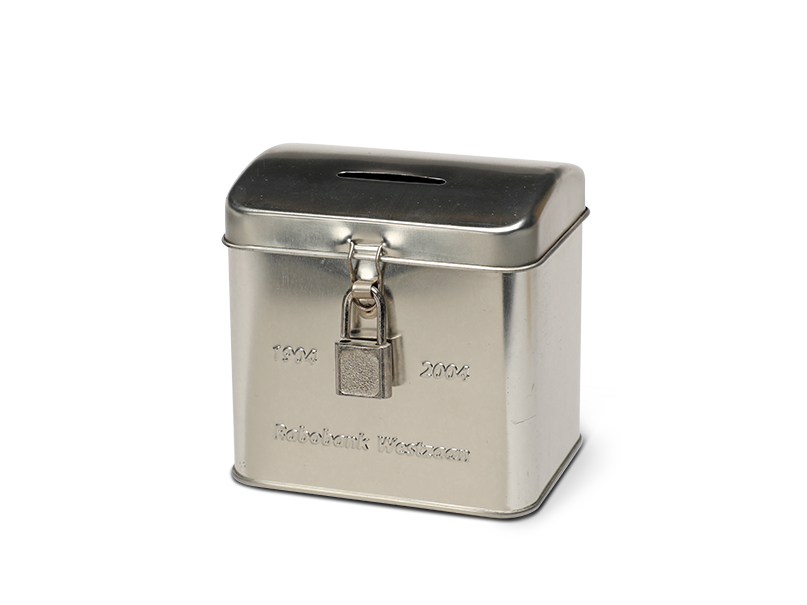 Save money in a tin treasure chest with a lock.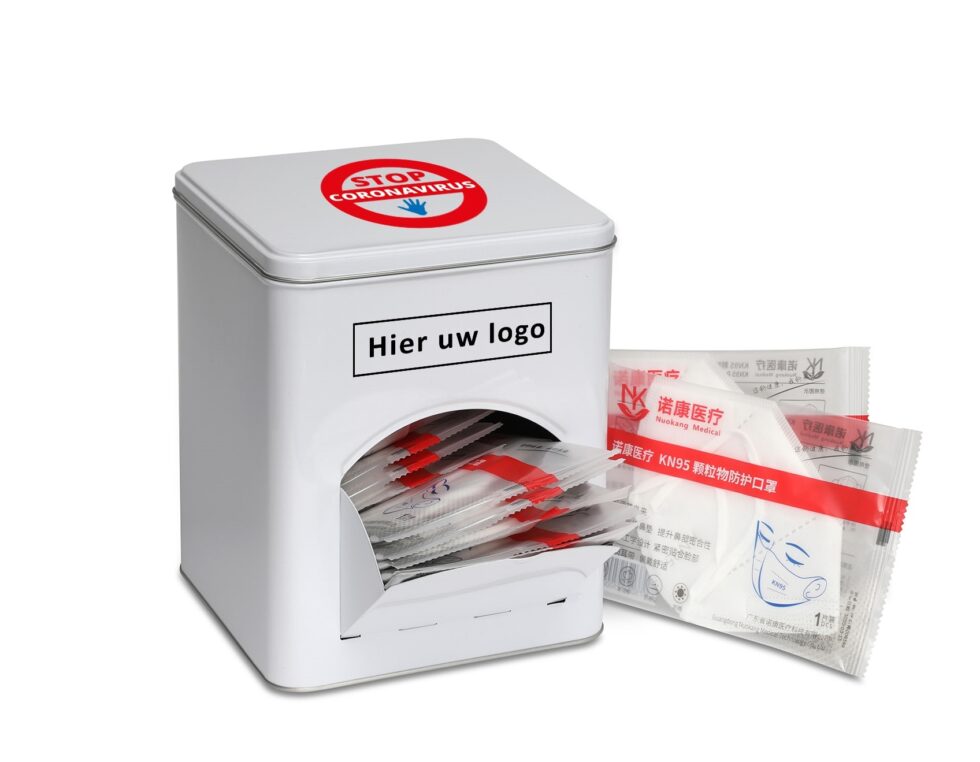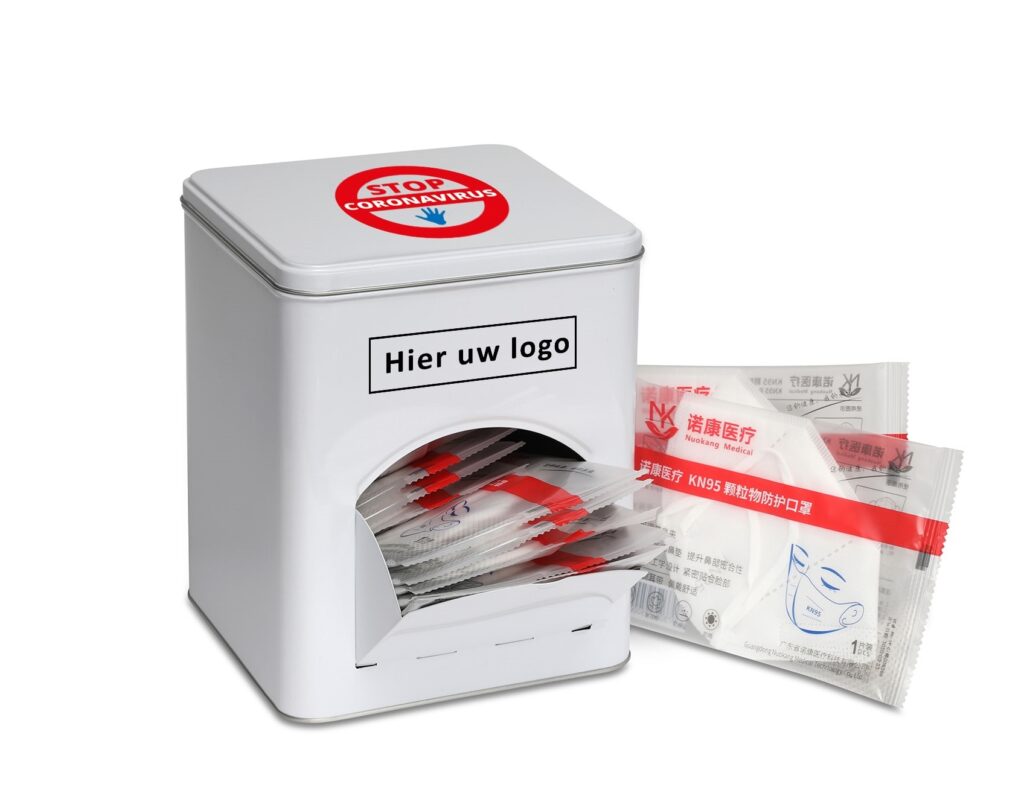 Mouth caps, hand gels, gloves etc. immediately at hand. Cans stackable with each other.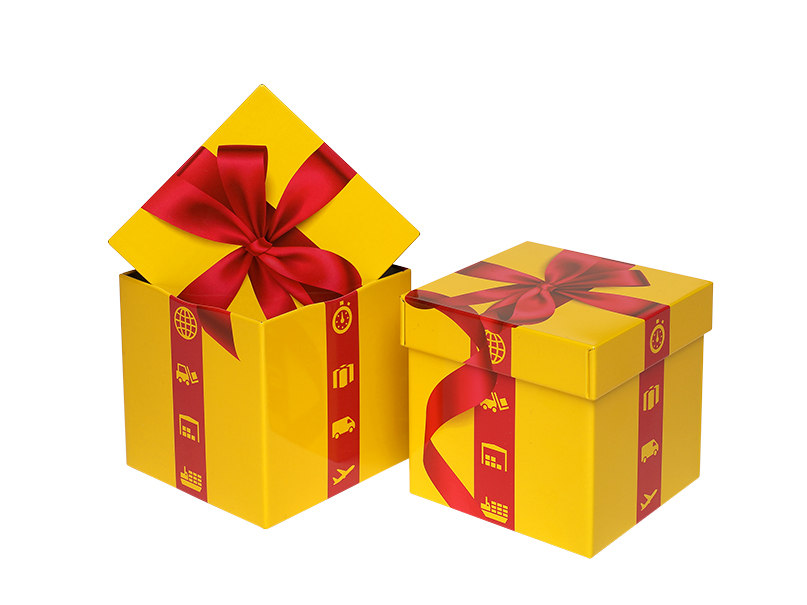 Special and sleek look with a festive print.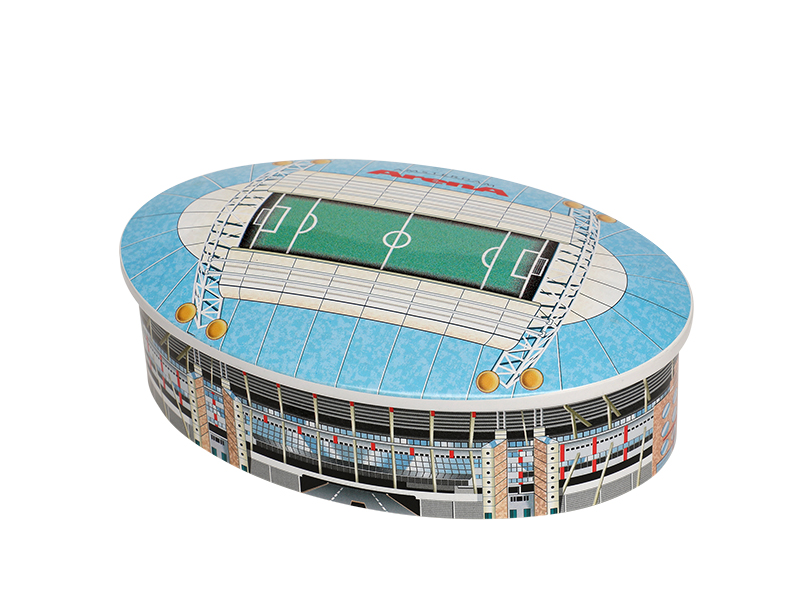 Form and design complement each other.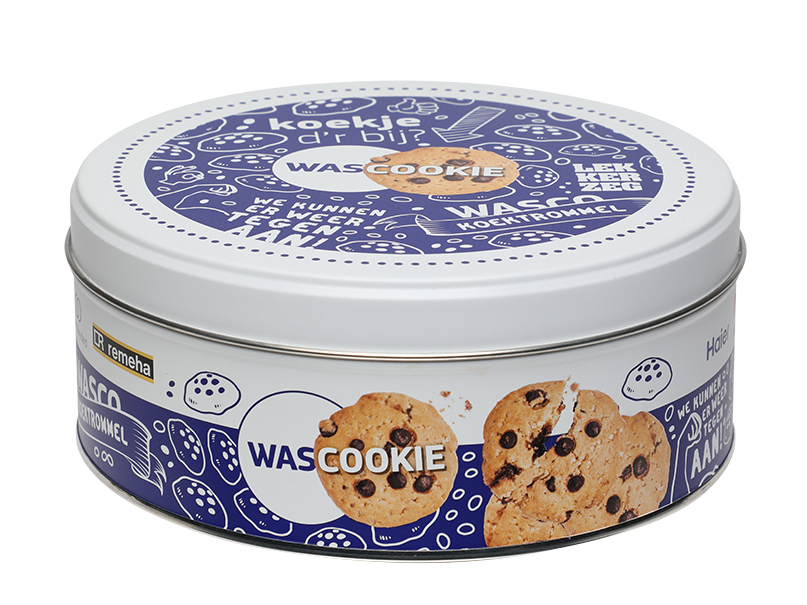 White lacquered tin with your own design, from 500 pieces. Click on more details!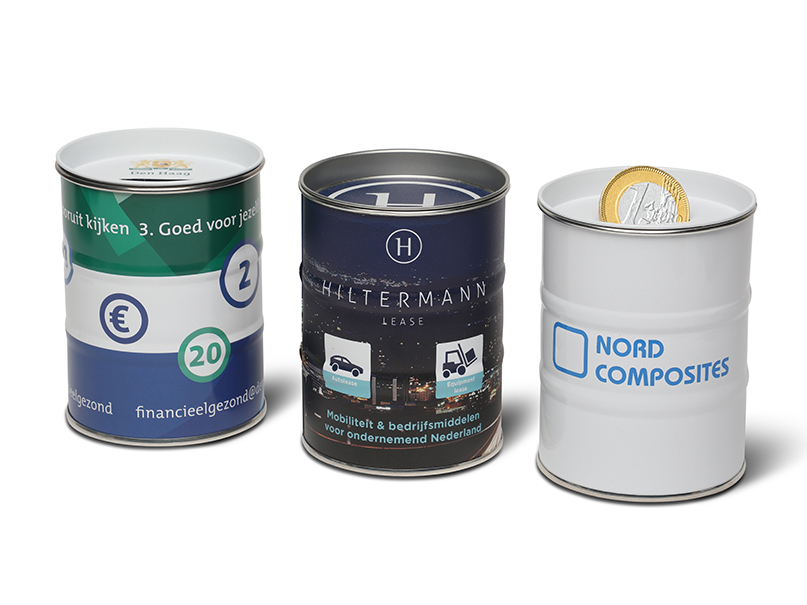 Tough oil barrel as candy / liquorice jar and / or savings tin.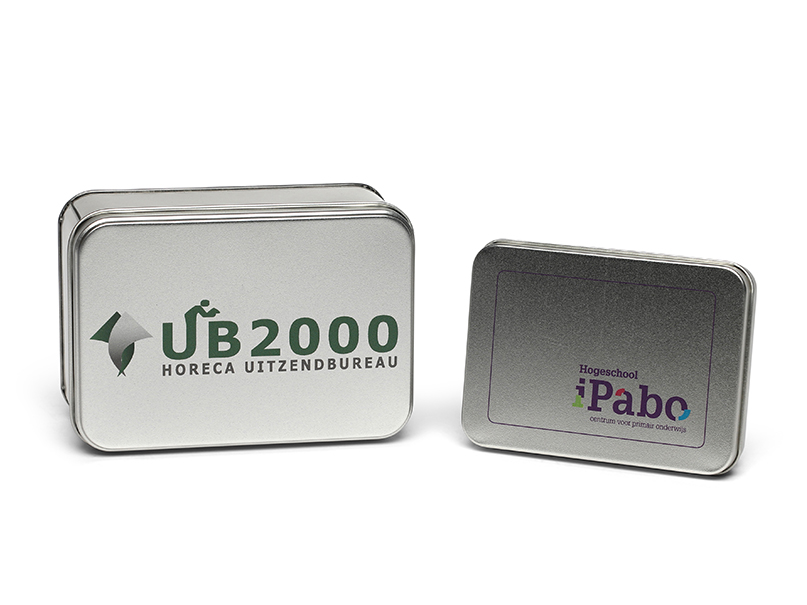 Various models and sizes in silver or white, with or without printing.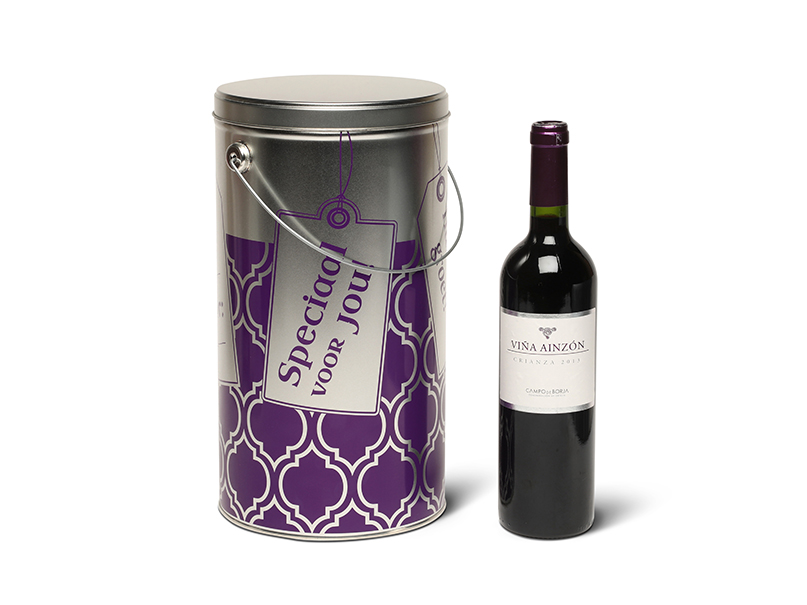 Tin for (end-of-year) package or wine trio. Handle optional.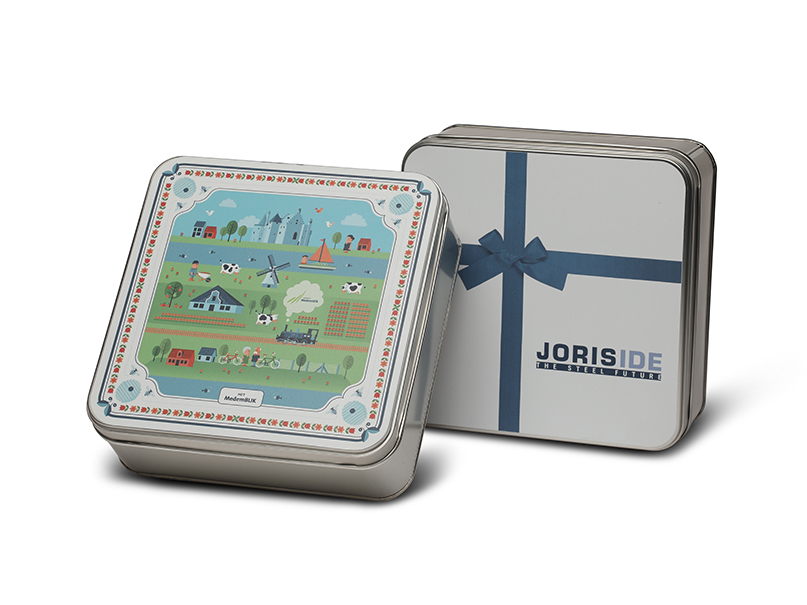 Neutral tin with its own label or sticker on the lid.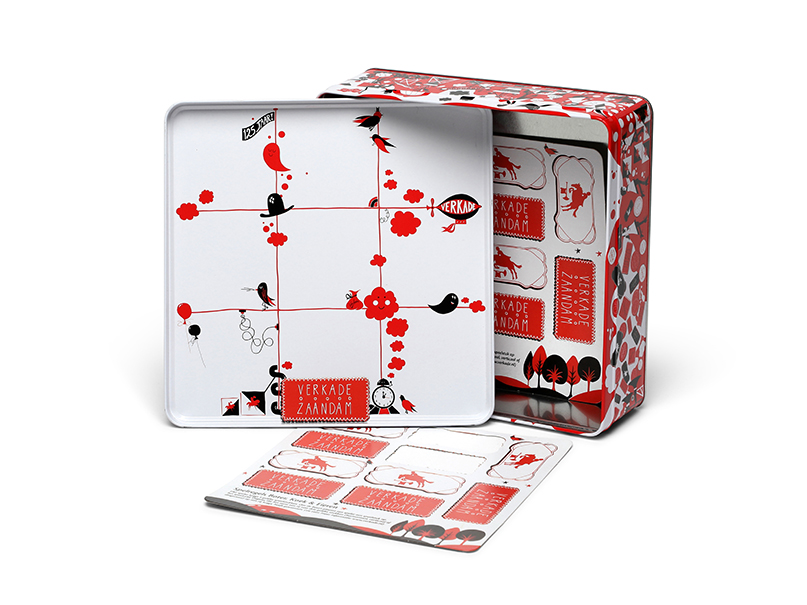 Playful use of the inside of the lid.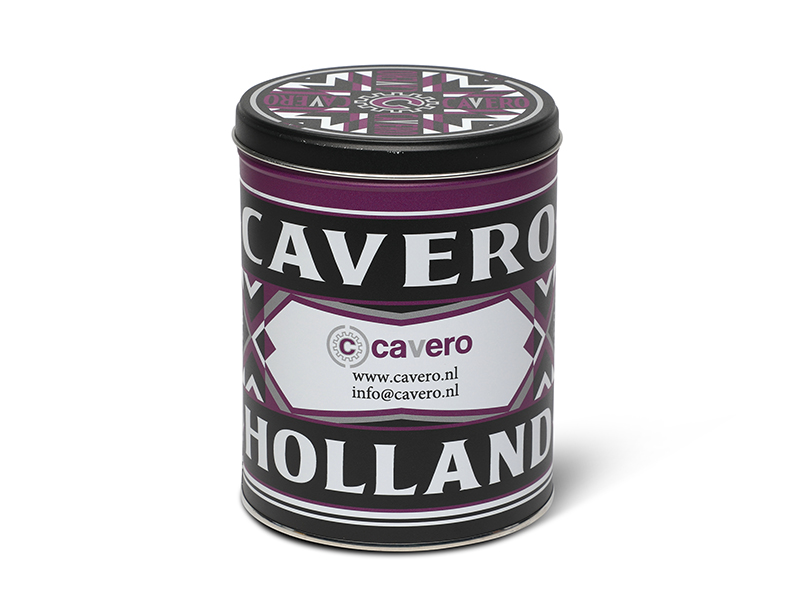 A unique design makes this tin an ultimate eye-catcher.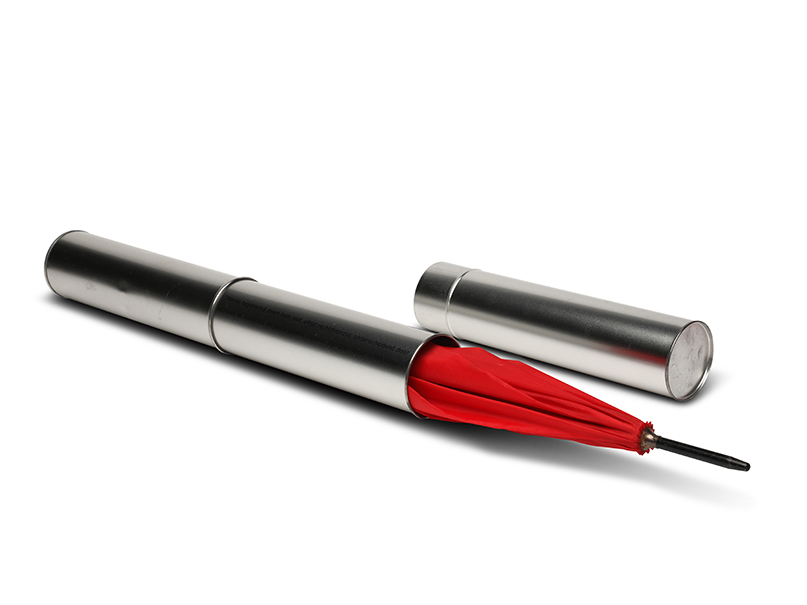 Unique tin tube for long products such as an umbrella.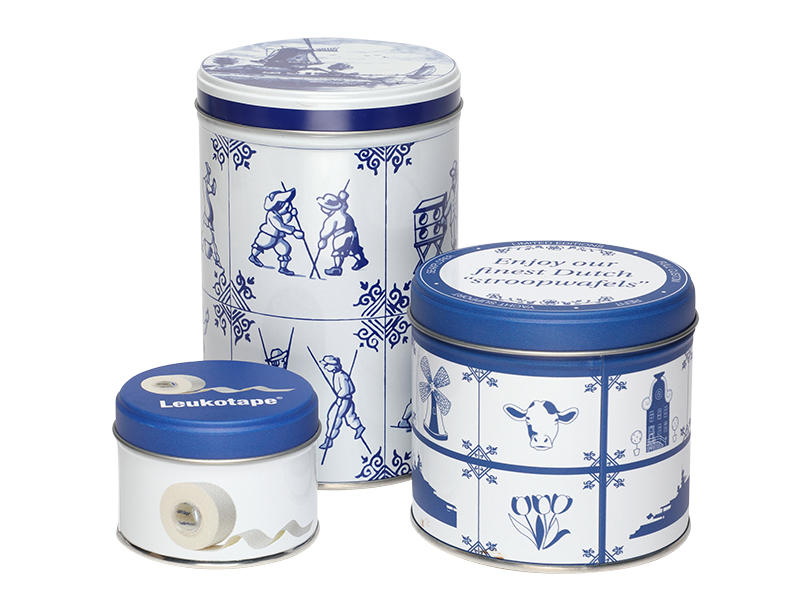 Many options in terms of size.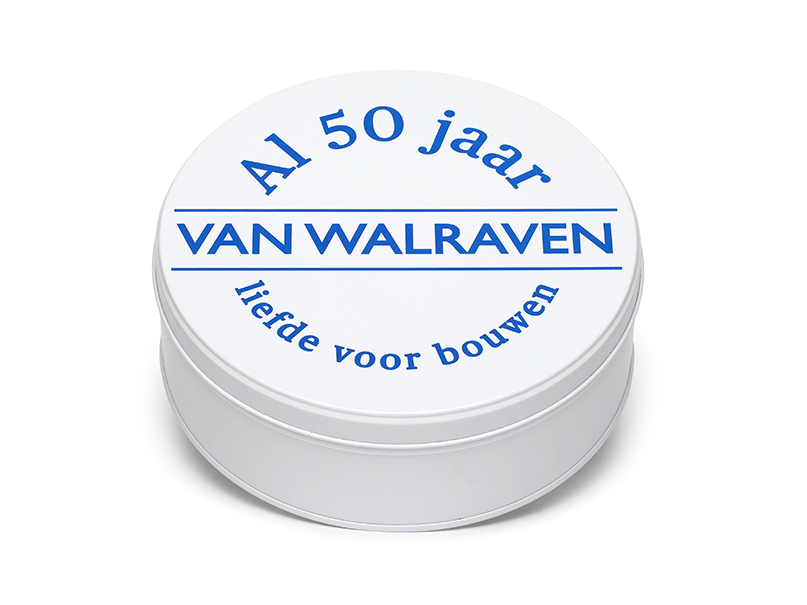 Budget-friendly look through a single color screen printing.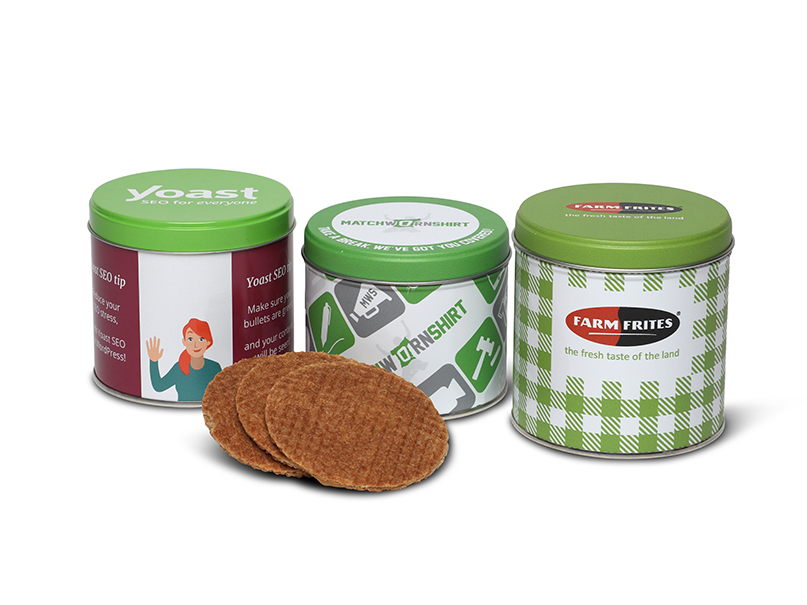 A topper among the promotional gifts: stroopwafels in cans.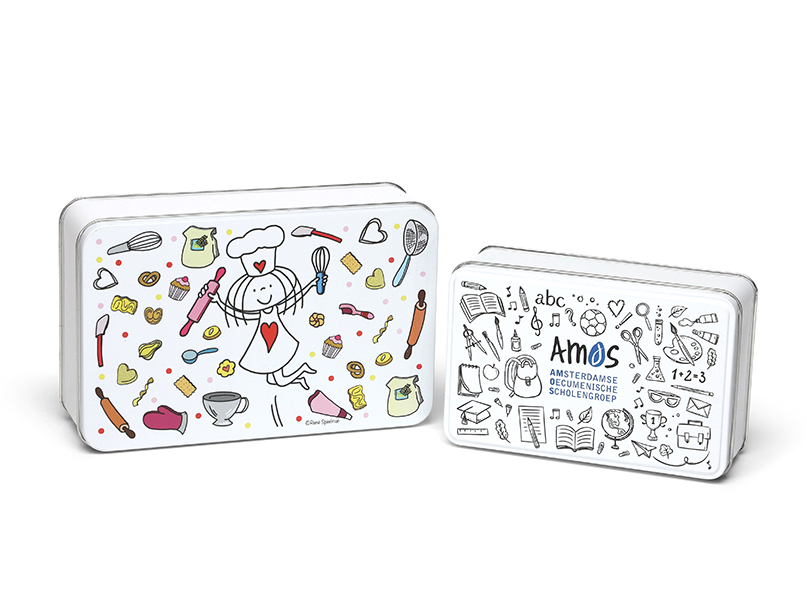 Standard tins, can be quickly provided with your logo or design on the lid.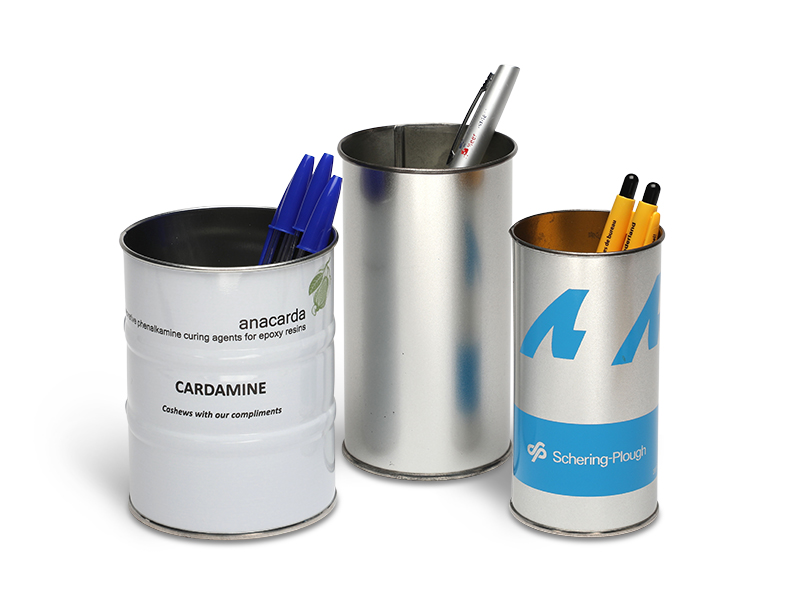 Look as an organizer on your desk and immediately a long-term advertising medium for your brand.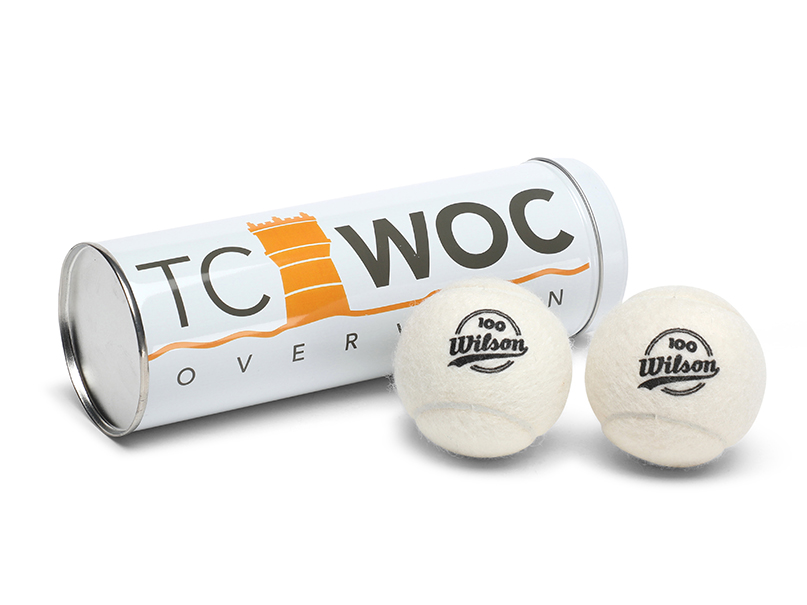 Promotional tin for a local tennis club.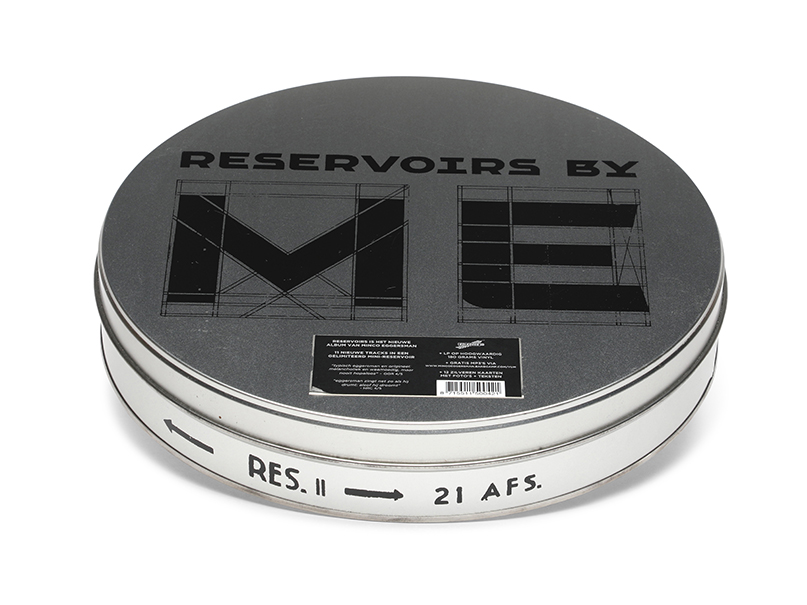 Introduction of music LP, modern nostalgia in a tin jacket.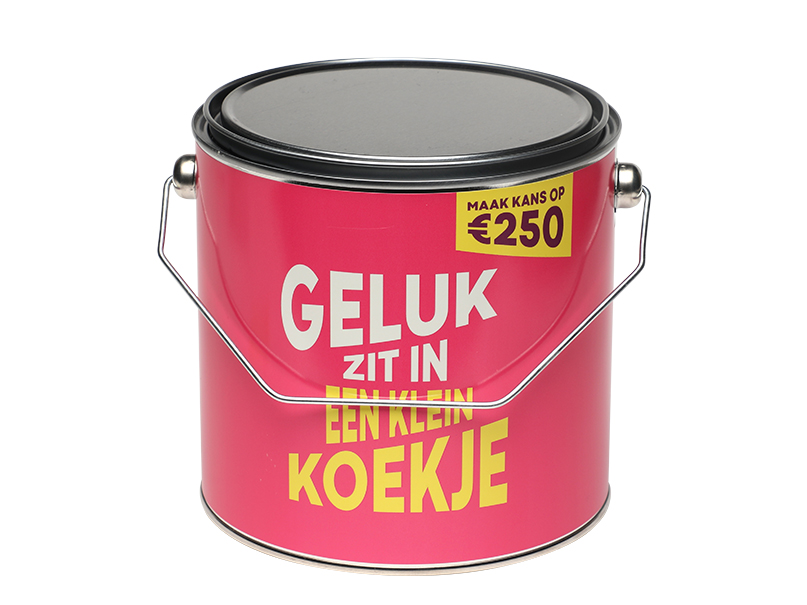 Paint tin (2.5 liter tin) as a promo with a striking, high-quality label all around.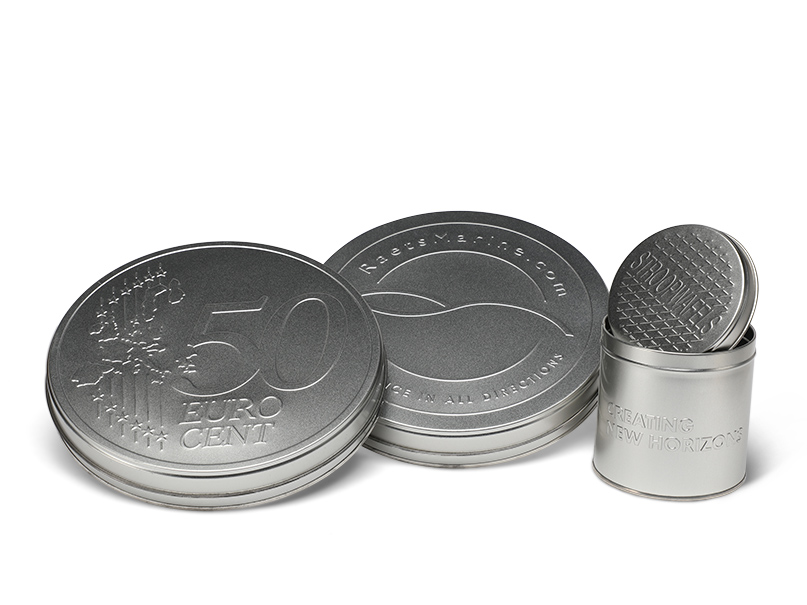 Chic branding in a (matte) silver tin with embossing.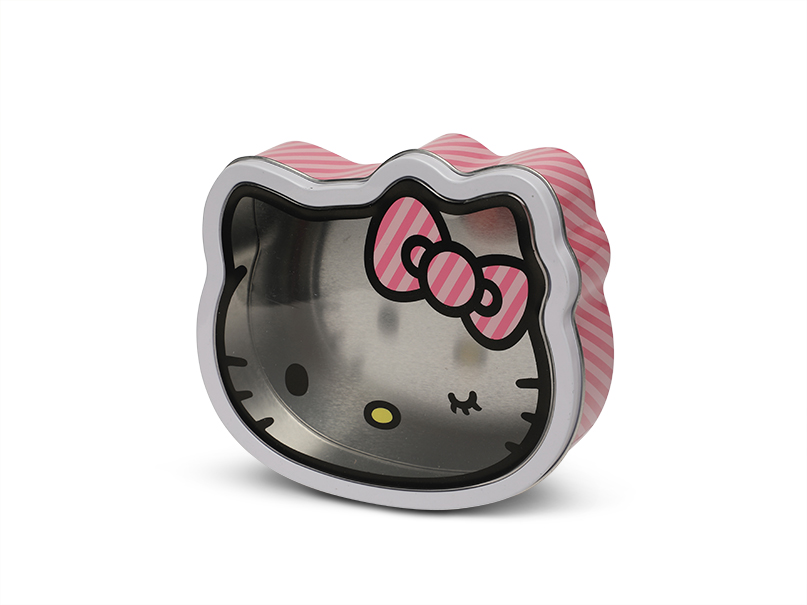 Direct view of the contents with a window in the can (lid or body).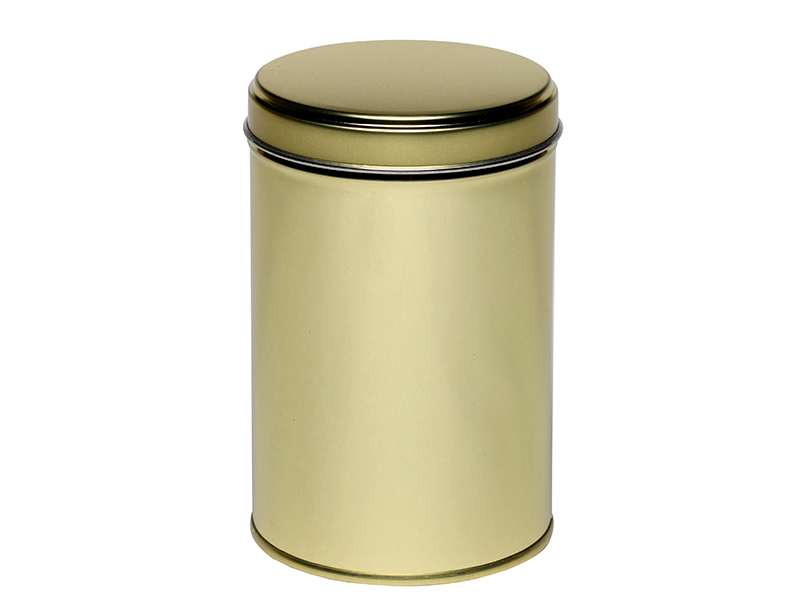 Round tin in shiny gold lacquer. Prefer a matt gold tin packaging? Also possible!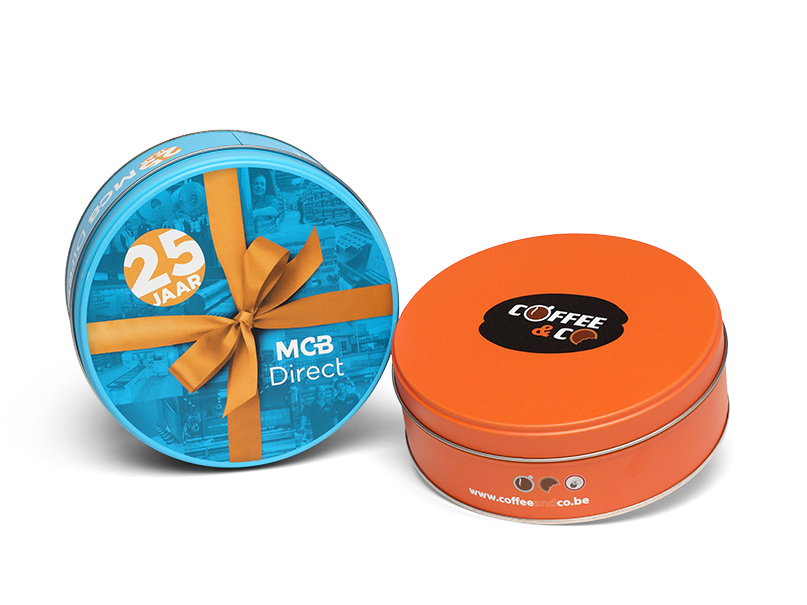 Full colour, digitally printed. Many diameters and heights possible. Your design determines the appearance.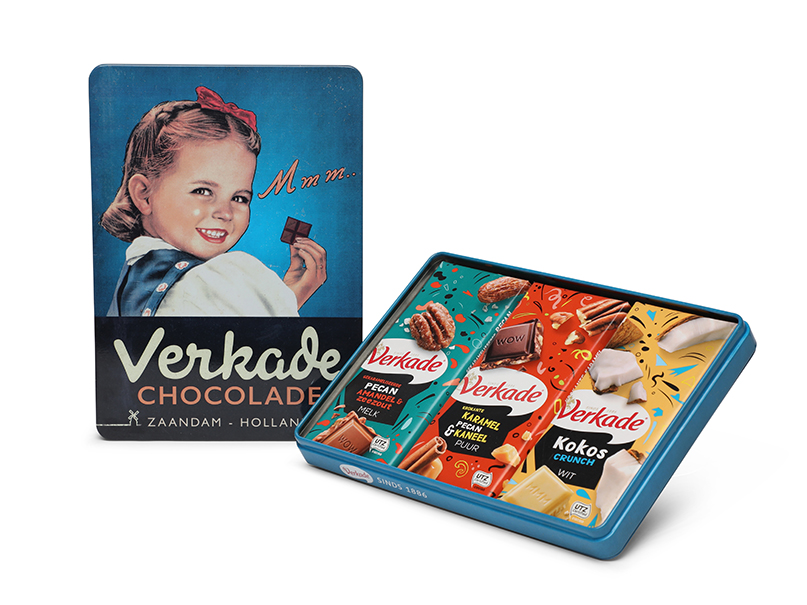 Did you deliver your product through the letterbox? That can also be done with a look.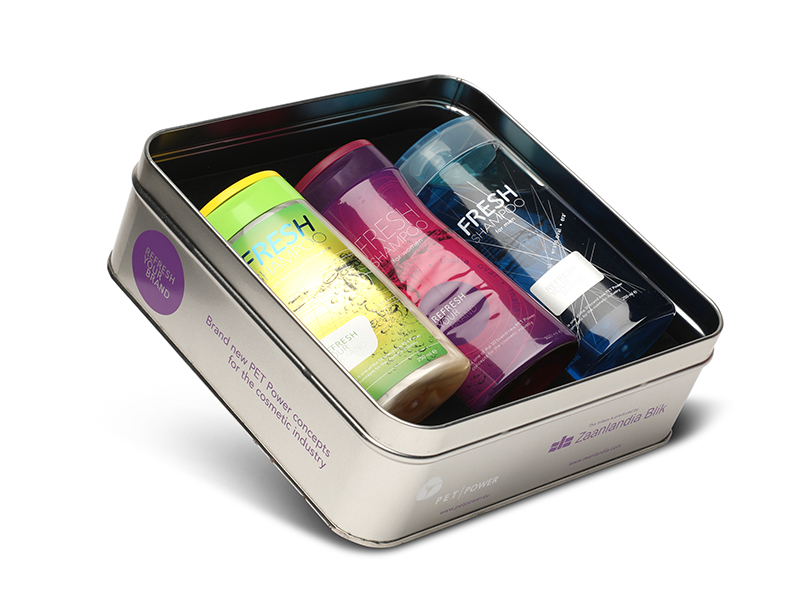 We can provide your can with a foam inlay.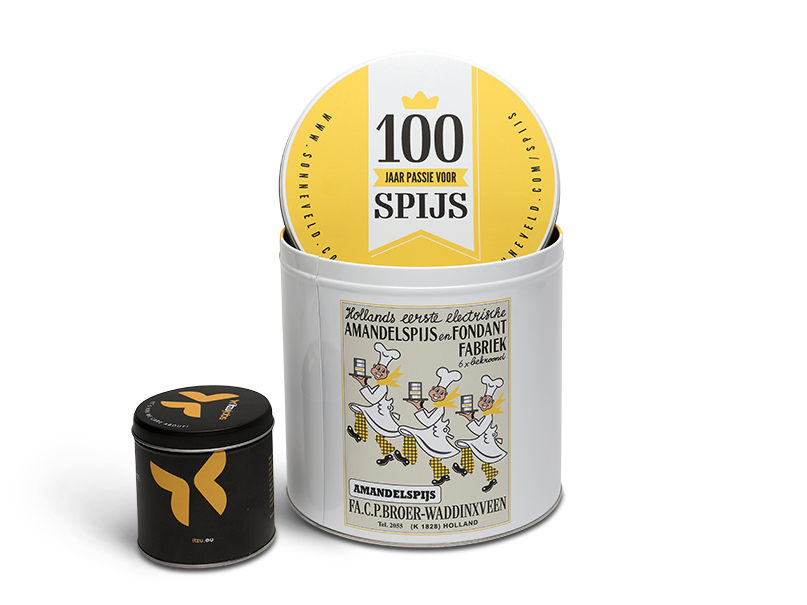 Something to celebrate? Say it with a lasting look.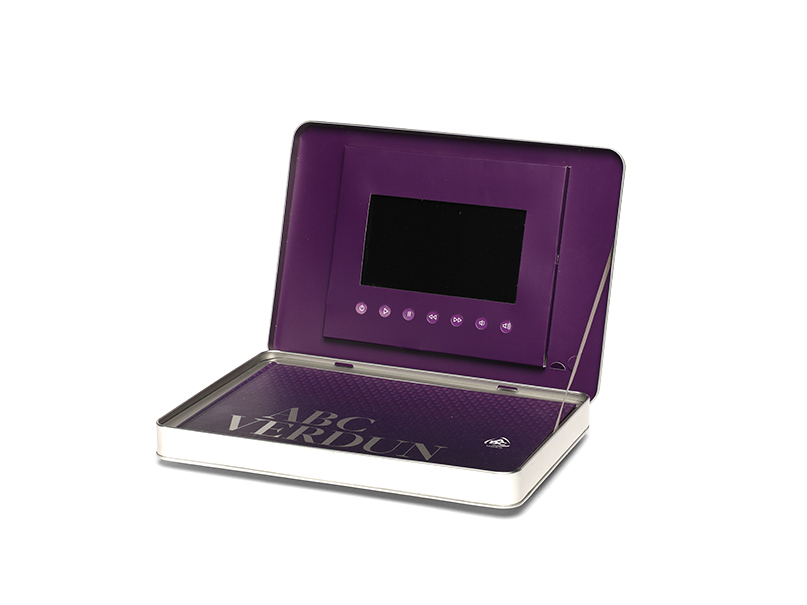 A look at A4 format with a tailor-made presentation.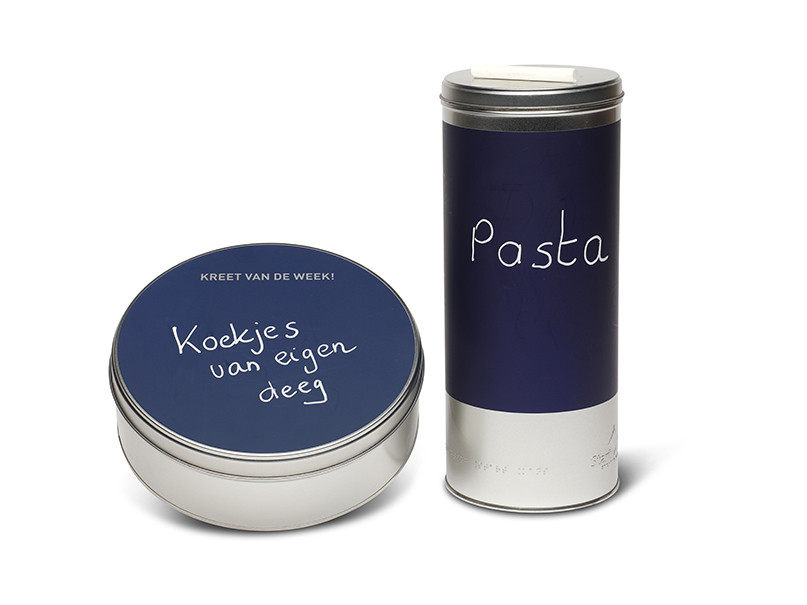 A tin with a chalk area to be written in your own color.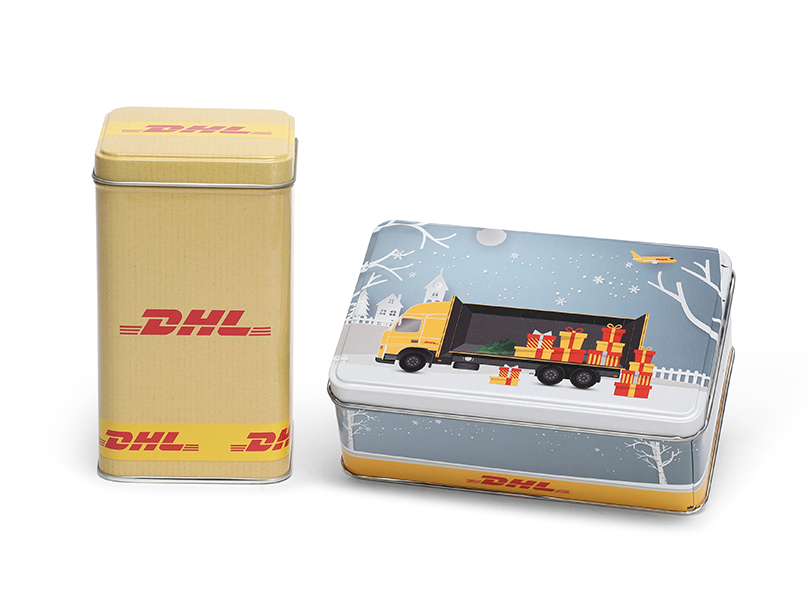 Consider a filled tin as a business or year-end gift.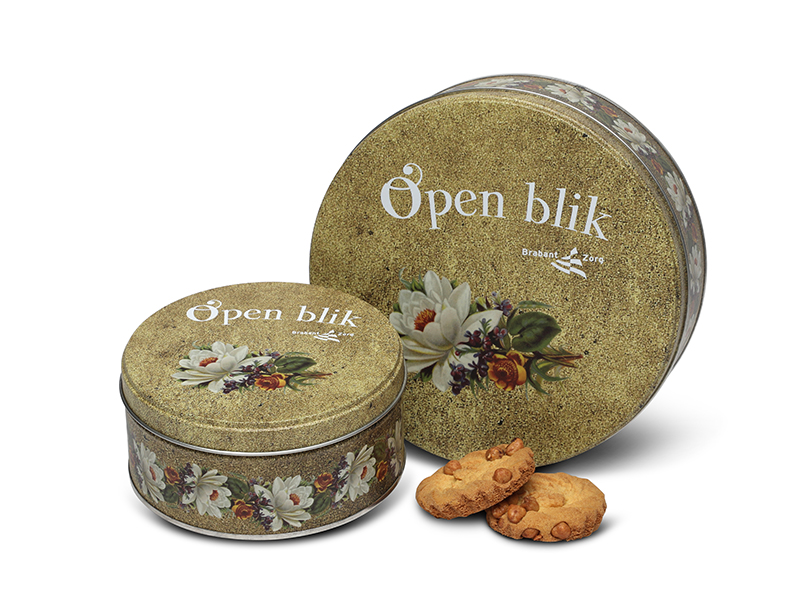 Biscuits taste extra delicious from a colorful printed tin. Your design determines the appearance.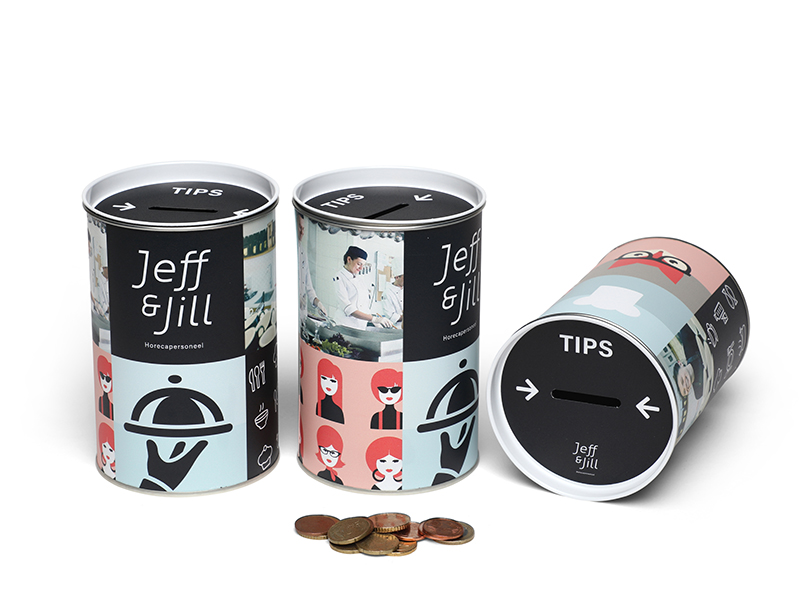 For more tips for your employees or as a savings or donation tin for a nice promotion.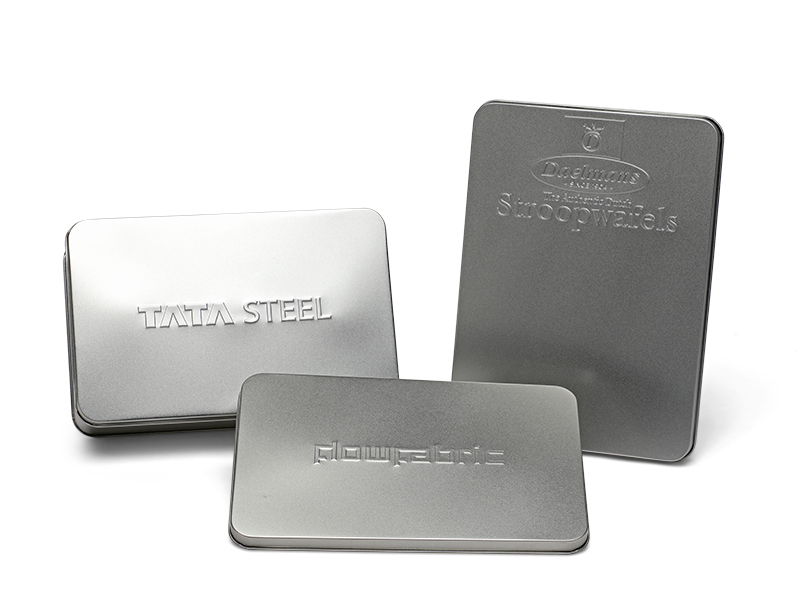 Chic simplicity with your branding through präge in a (shipable) tin.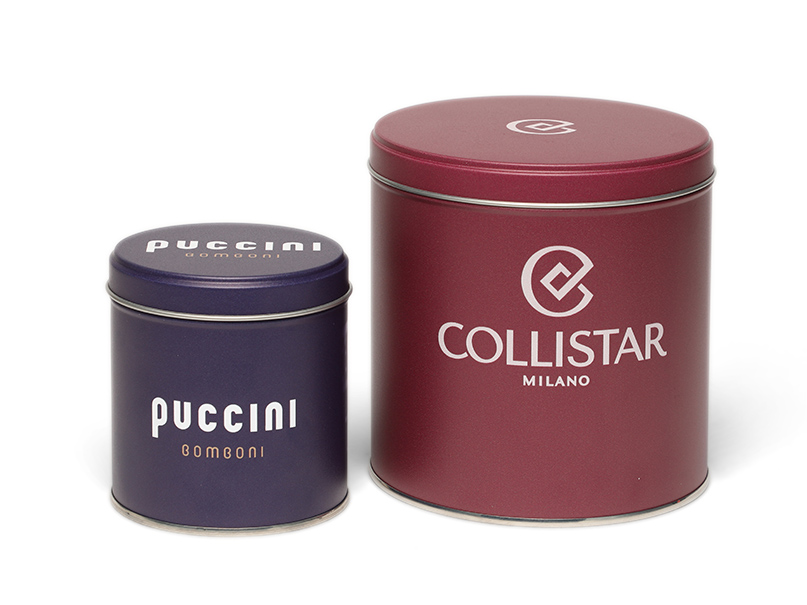 We have many fixed diameters and you can determine the height yourself. Your design makes it complete.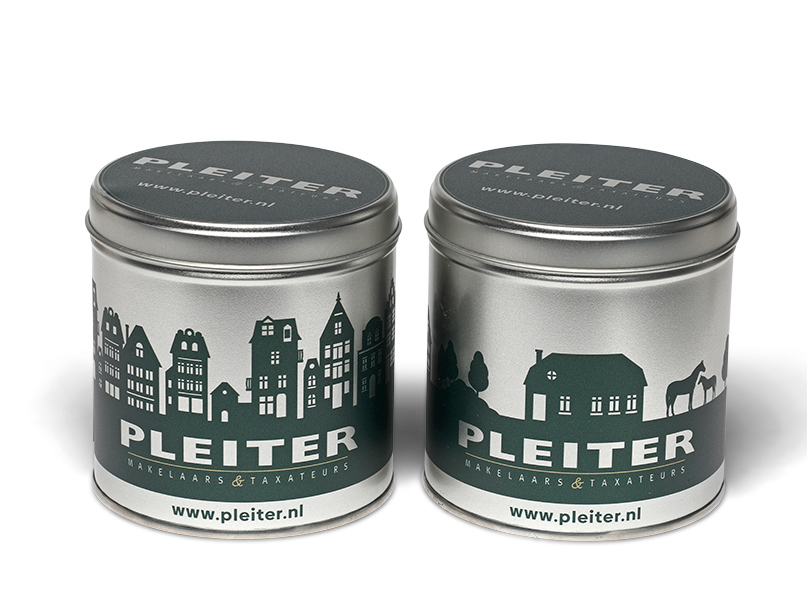 Retains the tough look of tin with a partial design.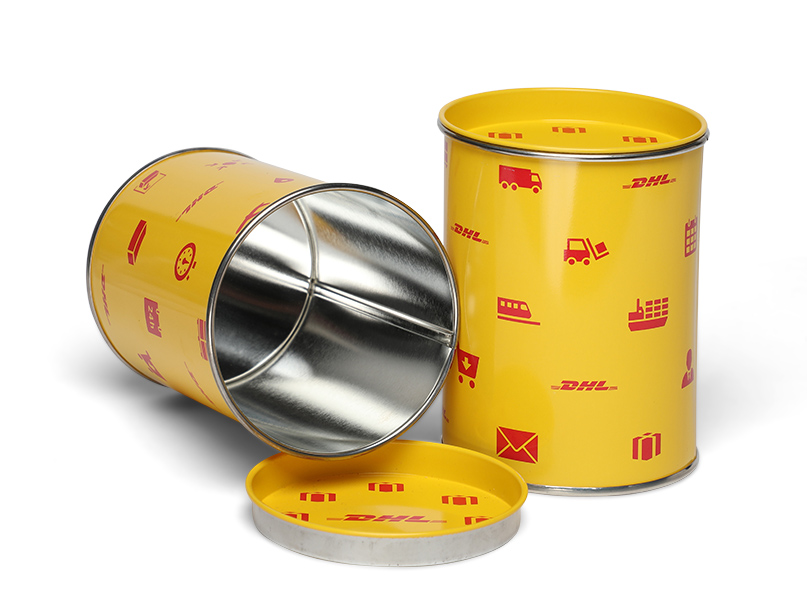 Mini drum as a cool candy tin, 2 colors for the design. Sometimes you don't need more.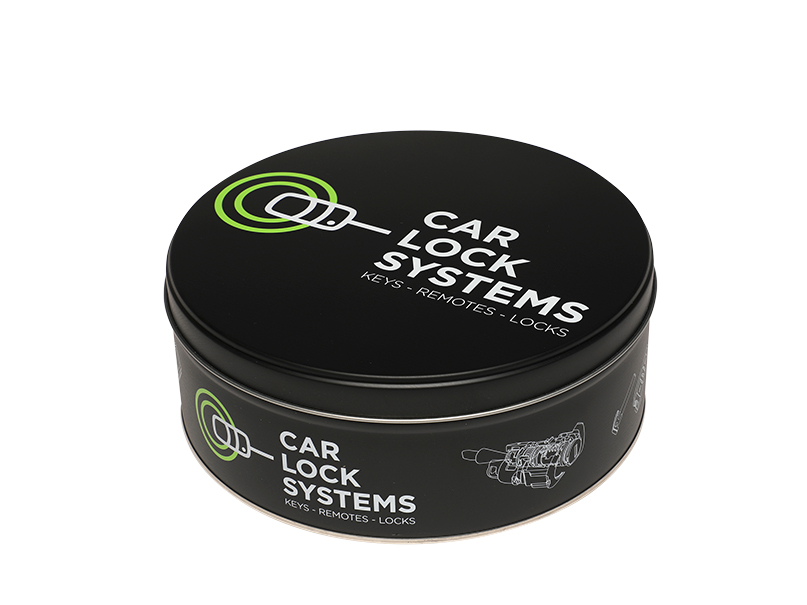 Use our matte black tin material as a background for your design.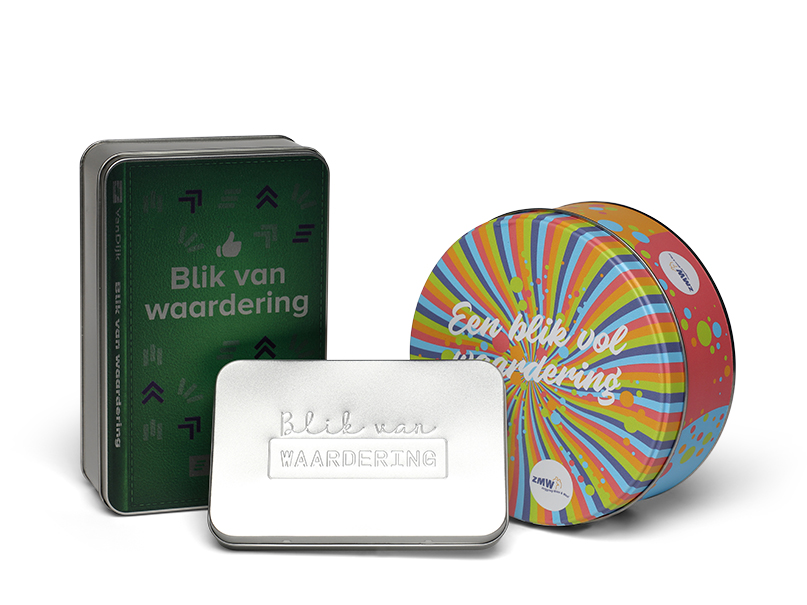 We provide the (printed) look, you provide the content and appreciation for your relations or employees.
An allover printed tin with your own message and design.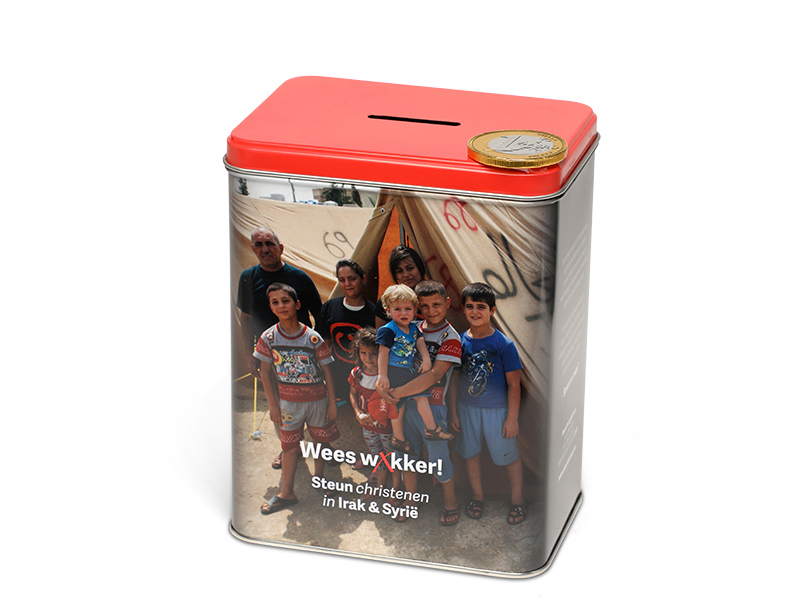 Collecting money with a can? We make it easy for you with the savings slot in the lid.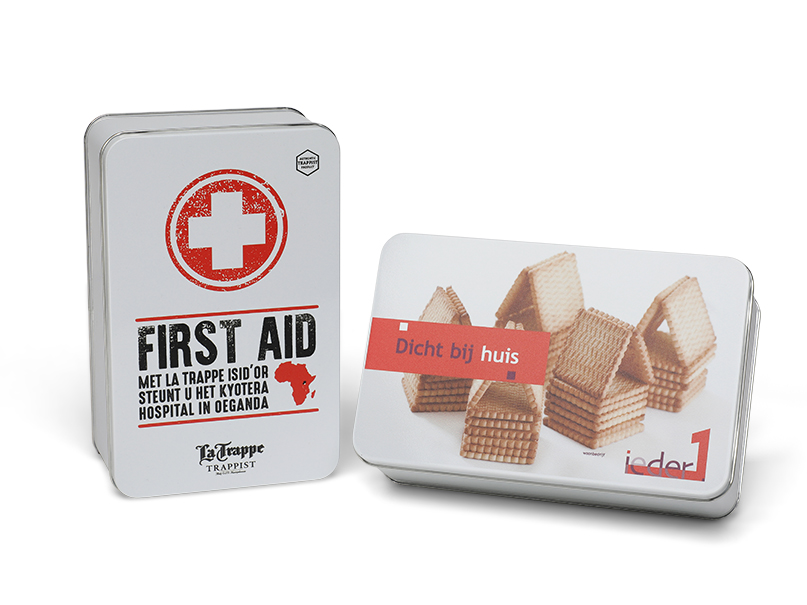 Fresh white looks. Quickly available from stock and can be printed quickly in screen printing or digital printing.
Looking for a personalized tin can?
Are you interested in a tin that fits you in terms of shape, printing or processing? We would like to get in touch to inform you and hopefully inspire you.